28 Sep

Have you met…Satish Kumar? – Exploring the Impact of Orion Innovation in Sports Technology
Question: Satish, please introduce yourself to our readers. What was your career path like and how did you begin working in Orion Innovation?
Answer: My name is Satish Kumar, I hold a management position at Orion, reporting directly to the CEO. My journey with Orion, spanning seven enriching years, has been founded on principles of diligent work and establishing robust foundations—principles I believe synchronize impeccably with dynamic fields like sports and IT.
I embarked on my professional voyage in the IT sector as a developer, navigating through multiple domains before shifting gears to management roles. The past 18 years have seen me majorly involved in leadership positions. Before my tryst with Orion in 2016, my professional experience was coloured with roles in major companies such as Cognizant, HCL, and Hewlett-Packard.
My transition to Orion was prompted by the company's promising potential to spearhead a revolutionary phase in the IT sector and my unwavering belief in the commitment and vision of our then-prospective CEO. My role in Orion has been instrumental in steering the company's monumental growth, seeing our team expand from 950 to 7,000 members.
My focus has been on formulating effective go-to-market strategies and supervising a range of business units and verticals. My journey with Orion has been an alignment of my professional values and ambitions, marking it as a journey filled with learning and rewarding experiences.
Q: Can you describe more about Orion's involvement in the sports industry and what specific areas within this industry are you focused on?
A: Absolutely, at Orion, sports are a fusion of business and passion, evolving from unexpected beginnings two decades ago into partnerships with premier leagues globally. Initially focused on comprehensive sports operations, facilitated by our bespoke sports ERP platform, our 2019/2020 analysis redirected our focus towards innovative operations, revenue generation through advanced technologies, and enhanced fan experiences in the evolving sports landscape.
We prioritize facets like innovative 'Stadium as a Service' solutions to enrich engagement in a post-COVID world and emphasize leveraging sports for positive societal impacts, especially at the grassroots level. We're navigating realms like betting with responsibility and developing platforms to maximize social impact, all while continuing our commitment to societal well-being.
Our collaboration with over 30 global clients reflects our dedication to leveraging extensive experience and passion for making meaningful contributions to the sports industry, focusing on transformative and positive impacts.
Q: Would you consider the sports industry relevant for Orion? And if so, why?
A: Orion places immense value on the sports industry, recognizing it as a sector rich with unexplored technological potential, contrasting with traditionally prioritized sectors like finance and healthcare with substantial IT investments. In 2019/2020, we identified a disparity in technological advancement in sports, a sector often overlooked by tech companies due to its association with entertainment. Our expertise and passion in this field prompted us to pioneer innovations in sports, a universal and engaging domain.
Our strategic three-to-five-year roadmap was significantly expedited by the unforeseen challenges of the COVID-19 pandemic, catalysing innovation, and affirming our commitment to the sector. The industry's promising market trends and substantial growth from $27 billion in 2019 to approximately $65 to $68 billion currently reinforce our belief in the timely and strategic emphasis on sports technology, positioning Orion advantageously in this rapidly evolving and lucrative market.
Q: What is your favourite sport/team that you follow?
A: Sport is embedded in my very DNA, and I harbor a profound enthusiasm for it, having engaged in diverse sports activities at various levels—from local to state, and even national levels in India. My athletic pursuits have ranged from short-distance running and long jump to cricket—a sport almost synonymous with growing up in India.
Football, especially soccer, occupies a special corner of my heart, with Arsenal being the team I ardently support. However, my sports passion is not confined to just football or cricket; it spans across a spectrum of sports, including the NBA, golf, and T20 cricket. My fascination is particularly intense for T20 cricket, evidenced by the fact that I've diligently followed every World Cup game over the last four tournaments. This enduring commitment stands as a true reflection of my unrelenting passion and love for sports.
Q: What about leveraging the emergent technologies in the platforms that Orion is developing for the sports industry? How do you implement artificial intelligence, virtual reality, and others?
A: At Orion, we view sports as a field abundant with opportunities for innovative technologies like AI, VR, and blockchain. Our exploration is intensive, aiming to integrate these technologies broadly and effectively across the sports domain. We focus on ensuring the universal applicability and longevity of these innovations, such as AI, to not only enhance player performance and aid injury prevention but also revolutionize fan experiences by providing personalized, real-time content, especially catering to the evolving preferences of millennials.
The integration of AR and VR is pivotal as well, enriching spectator experiences, assisting in training, and improving event security and crowd management. We use these technologies to elevate the social aspects of sports, fostering positive interactions and minimizing negativity across platforms.
In conclusion, Orion's approach to implementing emerging technologies is comprehensive and holistic, focusing on optimizing every facet of the sports industry. We are committed to ensuring that these advancements have a meaningful, lasting contribution, creating a positive and sustained impact in the sports world.
Q: What about Orion's cloud capabilities, how can they serve specific needs in the sports industry? Can you also highlight what are the specific needs of the sports industry when compared to other industries?
A: Historically aligned with Microsoft and Azure, Orion has refined its cloud capabilities to adapt to the dynamic needs and swift shifts in cloud preferences in the sports industry, induced by sponsorships and rapid migrations between platforms like Azure, GCP, and AWS. Observing the industry's growth and the influx of innovations, we recognized the essential need for flexible, integrative architectures and extended our proficiency to include cloud services, operations, and seamless migrations, ensuring adaptability to the fast-paced changes inherent to the sports sector.
To address the industry's unique demands, we developed a microservices-based architecture, offering a variety of service models and allowing a custom-fit approach to clubs' preferences, be it on-premises, cloud-managed, or self-hosted solutions. We've also introduced platforms like 'stadium as a service' in response to the demand for adaptable solutions. Our strategy involves building core platforms and synergizing with specialized partners to meet the specific needs of the sports sector.
Our ambition is not limited to migrations; we aim to leverage our cloud capabilities to unify diverse stakeholders and deliver cohesive, value-driven solutions in alignment with the evolving landscape of the sports sector. We envision a network of partners delivering integrated experiences, catering to the sector's intrinsic drive for spontaneity and innovation.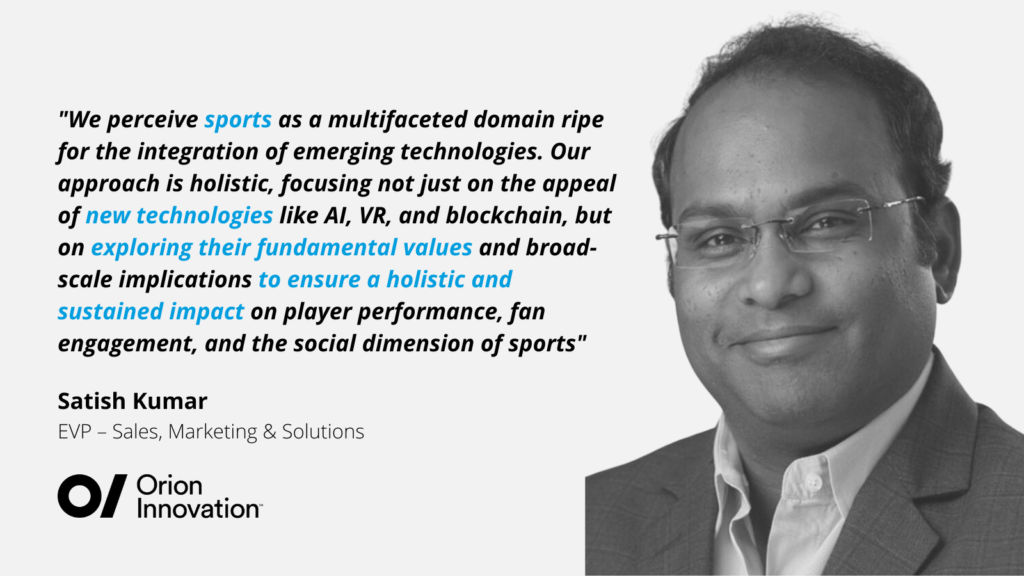 Q: Could you provide some examples of your work with sports organizations, perhaps sharing an example for each of the platforms you mentioned earlier? This will help us grasp how Orion can assist sports entities more effectively.
A: Orion has spent two decades offering specialized services to sports organizations, maintaining enduring relationships with every client since 2004. Our work is characterized by our dedication to optimizing and enhancing operational efficiencies within sports entities.
Sports Operations Platform
This platform acts as a comprehensive case management tool that addresses various aspects such as drug testing, integral due to the burgeoning legalization of betting in many countries. It is customizable to meet specific client needs, enhancing the integrity and fairness of sports by allowing stakeholders to raise concerns over perceived malpractices and integrating various drug testing agencies to maintain standardization.
Example:
For a major U.S. league, we manage nearly a million passes annually, streamlining the complexities of catering to a varied audience, from VIPs to media personalities, underscoring the requirement for meticulousness and tailored solutions in seemingly straightforward tasks.
Grassroots Platform
Our grassroots platform is a real-time offering already launched for soccer in notable leagues and countries, receiving positive feedback for providing a seamless and enriching experience.
Example:
It has been implemented successfully in a major European league and a significant democracy like India, offering seamless and enriching experiences and gaining positive traction.
Custom Solutions
Beyond our platforms, we also provide bespoke solutions, including application modernization and custom application development, catering to many sports organizations' preferences for tailored applications specific to their needs.
Example:
Through tailor-made solutions, we've assisted various organizations in developing applications specific to their operational requirements, ensuring their unique needs are met with precision.
In essence, Orion's involvement in the sports industry is diverse, encompassing emerging technologies to foundational aspects, focused on meeting and exceeding the unique and varied needs of each sports organization we collaborate with.
Q: Considering your extensive experience and insights into the sports industry, could you discuss the current challenges sports entities face in terms of digitalization and digital transformation? Additionally, how can they prepare to tackle these challenges effectively?
A: The sports industry faces multifaceted challenges, starting with the evolving audience demographic that spans various generations, each with unique expectations. Catering to a diverse audience, especially millennials who demand immediate and personalized experiences, requires adapting and providing tailored content and viewing experiences. Another challenge lies in the rapid pace of technological change in the industry. Balancing investments in new technologies and forming strategic partnerships is essential in navigating this fast-evolving technological landscape, where trends like NFTs and blockchains quickly shift, impacting the value of prior investments.
Enhancing game day experiences to draw fans involves leveraging social media for personalized content and managing the narrative effectively due to its influential role in sports. Sensitivity to social impact and public sentiment is crucial in this process. Additionally, addressing the prevalent technology gap among athletes is imperative. Many lack access to advanced sports management and performance analytics, creating a need for equitable solutions to maintain competition integrity and fairness.
The central challenges involve adapting to diverse audience needs, managing rapid technological advancements strategically, optimizing the use of influential platforms like social media, and bridging the technology accessibility gap for athletes. A proactive and innovative approach is pivotal in addressing these challenges and maintaining relevance in the dynamic sports domain.
Q: Which emerging technologies in the sports industry do you believe hold genuine value, beyond just being a passing trend? Essentially, what are your predictions regarding the next significant technological advancements in sports, excluding the hyped ones like NFTs or the metaverse?
A: Advancements like wearables, sensors, and IoT devices are transitioning from novelty to mainstream use in sports due to increased affordability, impacting multiple industries including insurance. They are being integrated into sports equipment to provide extensive data, enhancing areas like risk assessment and decision-making. Technologies such as goal-line technology and Decision Review Systems (DRS) are instrumental in maintaining the integrity and fairness of sports, influencing player careers, club standings, and fan engagement by delivering more accurate and fair outcomes during games.
Additionally, attention is being given to technologies that cater to individuals with disabilities in sports, as seen in events like the Paralympics. There's a growing need for innovations like audio playback systems and improved prosthetics to create an inclusive sports environment, enabling enhanced experiences for the visually and hearing impaired.
Furthermore, virtual imaging and digital fan engagement technologies continue to evolve, offering transformative ways for fans to engage with sports, although their full potential is yet to be realized. These advancements are paramount in contributing to the diverse and inclusive progression of the sports technology landscape.
Q: What value does Orion derive from its partnership with GSIC?
A: The collaboration with GSIC has been immensely valuable for Orion, and my appreciation for this partnership is genuine, not just because we're discussing it now; I have expressed this sentiment during our previous interactions. Initially, our introduction to GSIC came through a Microsoft channel, a pathway we stumbled upon despite not initially being familiar with GSIC. As a Microsoft partner, engaging with GSIC became a possibility.
One significant aspect that stands out is GSIC's efforts to bring diverse sports startups and entities together. We firmly believe that the sports industry's complex challenges can't be addressed by any single entity alone. It necessitates a collaborative approach, leveraging a partner ecosystem to collectively tackle these issues. GSIC serves as a facilitator in this collaborative effort. It has helped us integrate solutions from startups and individuals we work with into our own offerings.
Moreover, we perceive the partnership as a tripartite relationship—Microsoft, GSIC, and Orion. This tripartite synergy holds immense potential for us, and as a Microsoft partner, we aim to further capitalize on this relationship for mutual growth and innovation.
Q: What are Orion's future plans and focus within the sports industry?
A: Looking ahead, we see a vast landscape within the sports industry that we've only just begun to explore. Our primary objective is to enhance and simplify our existing endeavours. For instance, we're working on refining our AI capabilities, and streamlining over 30 algorithms to aid in player performance and various other aspects. Our goal is to make these solutions easily accessible and deployable.
Another area of focus is expanding the use of our solutions and grassroots platforms on a global scale. We strongly believe in the inherent value of what we offer and intend to make it more widespread. While we continuously keep an eye on new technologies and innovations, we adopt a cautious approach in evaluating their potential before fully committing to them. We maintain an innovation lab where we experiment with emerging technologies and ideas, assessing their commercial viability.
A significant area that we're deeply engaged in is the sports betting domain. The convergence of sports and entertainment is a notable trend, with newer forms of sports entertainment gaining prominence. We're keen on understanding how technologies like betting can reshape this landscape. We acknowledge that there's an abundance of knowledge and innovations out there, and we're committed to learning and evolving, leveraging partnerships and industry insights to drive our growth and advancements.
.