03 Nov

Have you met…Vanesa Arroyo? – Fostering a High-Altitude Innovation Culture
Question: Vanesa, could you introduce yourself and share your professional background?
Answer: I'm Vanesa Arroyo, at the director of Andorra Research and Innovation. I hold a degree in Biotechnology from the Universitat Autònoma of Barcelona, ​​two master's degree in biotechnology management and Entrepreneurship and Innovation, and a Management Development Program from IESE Business School.
My professional journey began in laboratory research, transitioning over time to project and program management roles. With a growing interest in innovation, I expanded my focus beyond biotechnology to encompass a broader range of sectors. My industry experience spans roles at Sanofi and Genomics, predominantly within biotechnology, biomedicine, and pharmaceuticals.
After a decade in the field, I returned to Andorra to help cultivate an emerging innovation sector, contributing to founding and promoting the ACTINN Cluster, specializing in new technologies and innovation. These experiences paved the way for my current role, where I've been the director for several months, driving research and innovation forward in my home country.
Q: Andorra is a small country with its unique strengths and challenges. How do these factors influence the direction and priorities of Andorra Research & Innovation?
A: Despite its modest size and population, Andorra's challenge of hosting around 8 million of visitors annually alongside preserving its mountainous landscape informs our strategic direction at Andorra Research and Innovation. We're dedicated to harmonizing environmental integrity with economic growth. This mission necessitates close collaboration with government, businesses, and the community to launch inclusive initiatives.
Our research is tailored to Andorra's distinctive needs, focusing on mountain ecosystems, biodiversity, and socio-historical studies, while also emphasizing sustainability and technological innovation. We balance foundational research with practical applications through technology transfer and pilot projects, ensuring our work contributes significantly to Andorra's development.
The mission of Andorra Research & Innovation is to generate knowledge and develop innovative solutions that allow us to respond to the current and future challenges of the Andorra society.


Q: How do you see the role of public-private partnerships in advancing research and innovation in Andorra?
A: In Andorra, our research and innovation team is compact, about 50 strong, necessitating efficient use of our resources. We ensure that each project we initiate has broad appeal and relevance to public entities and other key players. This is crucial in a setting with limited investment compared to larger countries. Our approach is to integrate stakeholders from the start, engaging those who will benefit from and utilize our research, which fosters a highly collaborative environment essential for our success.
From Andorra Research & Innovation, we work through the quadruple helix model, in which we take into account all stakeholders in the ecosystem, but our focus is always centered on the user.
Q: Can you share a success story or an instance where Andorra Research & Innovation made a significant impact on the society or economy of Andorra?
A: Certainly. An example of a strategic project has been the design, promotion, and implementation of the National Innovation and Entrepreneurship Strategy. The objective was to understand the needs of different relevant agents of the ecosystem in order to design a roadmap and a prioritization of actions.
The key to our success was partnership: while some actions could be handled individually by public or private sectors, the greatest achievements came from joint efforts. This project, initially a public administration roadmap, has become a dynamic series of actual, measurable innovations, adapting to our needs and progressing continuously.
As I mentioned at the beginning of the interview, we are a small country and it is important to join forces to develop and promote projects that generate a positive impact on society.
Q: With the increasing emphasis on sustainable and eco-friendly practices globally, how is Andorra Research & Innovation addressing these concerns in its projects and initiatives?
A: Sustainability is at the core of our work at Andorra Research and Innovation. We adopt a holistic approach, ensuring sustainable practices within our team operations and through the execution of various pilot projects. Given our location in the Pyrenees, the conservation and management of natural resources, like our forests, are paramount.
One of our innovative projects is named 'Marteloscope', a digital mapping tool for local forest, aiding the public administration in eco-conscious decision-making regarding tree management and CO2 impact. This tool is not just for administrative use; it's interactive, educating and empowering users to participate in sustainable practices. Through such initiatives, we aim to foster a culture of sustainability and informed decision-making.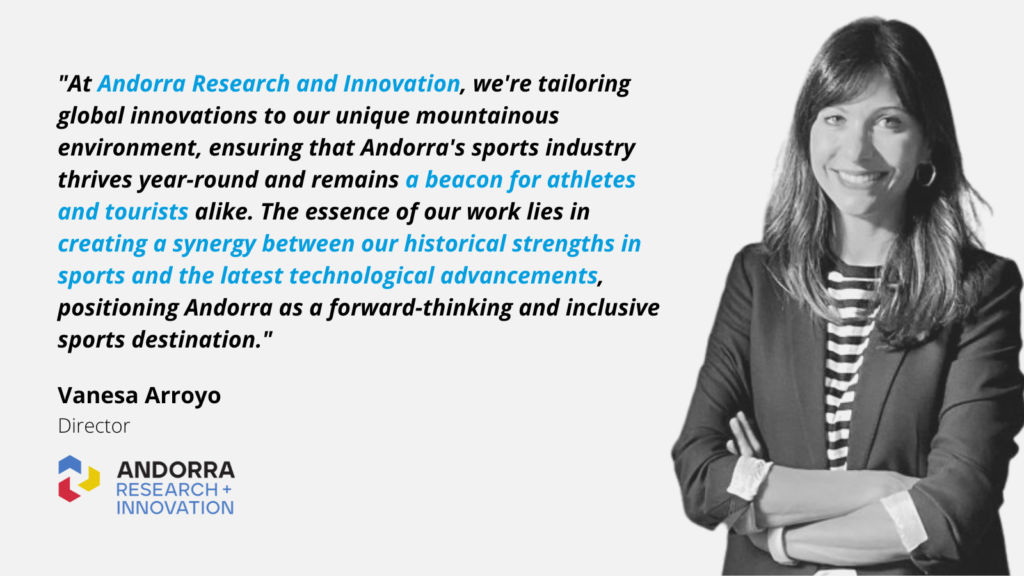 Q: Are there any global or regional trends that you believe will significantly influence the future direction of Andorra Research & Innovation?
A: We are in a totally changing and challenging environment determined as a VUCA environment (volatile, uncertain, complex, and ambiguous). Nowadays social, environmental, and economic casuistry is a challenge, for this reason from our foundation, we contribute to generating information, knowledge, and data to provide innovative solutions to society.
New technologies also play a crucial role, helping us to provide innovative solutions, in fact, the sum of innovation and research will help us to adapt to the future.
European trends, particularly in sustainability and 'green' innovations, are influencing our direction, with Agritech being particularly relevant due to Andorra's agricultural heritage. While we align with these broader movements, we adapt them to our unique context—our niche mountain environment. It's about finding that sweet spot where global trends meet our local needs, allowing us to infuse Andorra's distinct character into our research and innovation projects.
Q: How do you foster collaboration with international organizations and researchers to further the goals of Andorra Research & Innovation?
A: From our foundation, we have a wide network of national and international partners that allow us to establish synergies, knowledge exchange connections, and development of projects.
It is essential for foundations like ours to have connections with other institutions to generate, share knowledge, and share innovative projects.
For example, a decade-long partnership with MIT's City Science Lab has been instrumental in our pursuit to become a "living lab" for innovation. Additionally, joining the Science and Technology of the Americas network has opened doors for joint projects with Latin American and European nations.
We also collaborate with European bodies like the Barcelona Supercomputing Center and Genomic Regulations in Barcelona, which keeps us integrated with the pulse of innovation and allows us to contribute our unique capabilities. Networks play a crucial role in connecting us with global talent and trends, ensuring that we remain innovative and informed.
Q: What is Andorra Research & Innovation's perspective on the sports industry and why the partnership with GSIC is important?
A: The sports industry is vital to Andorra's identity and economy, anchored by our legacy as a mountain sports haven since the 1950s when we introduced our first ski lifts. At Andorra Research and Innovation, we're broadening this legacy to encompass year-round sports activities and cutting-edge innovations in services, materials, and technologies, such as data tracking and biosensors.
Our work transcends traditional sports. By leveraging the Andorra Living Lab environment, companies can collaborate with sports federations and use our dynamic landscape to develop and refine Minimum Viable Products (MVPs). This collaborative approach allows for hands-on data collection and real-time product enhancement.
We're proud to make Andorra an inclusive sports destination for all ages and interests, from local youth to international tourists. Our commitment is to continuously foster these initiatives, ensuring that Andorra remains a choice location for both recreational and competitive sports activities.
We created Andorra Sports Innovation Hub, as a result of the union with Andorra Business, GSIC, and AR+I, to encompass and work in a specific and focused way with the lines of work and projects of the sports sector.
Q: The GSIC is assisting in the development of the Andorra Sports Innovation Hub. Could you tell us more about this initiative and your vision for it?
A: The Andorra Sports Innovation Hub is a groundbreaking initiative we've launched in conjunction with Andorra Business. Our goal at AR+I is to create a complete ecosystem that nurtures the sports industry from research to startup formation, all within a real-life context. This hub is instrumental in forging connections with diverse companies, elevating our profile, and pushing our projects onto the international stage.
We actively collaborate with network stakeholders, fostering a space where we can develop pilots, grow companies, and exchange knowledge. The sports community in Andorra has embraced our initiatives, and there is a unified commitment to further the success of the Andorra Sports Innovation Hub.
Q: Why did Andorra Business and Andorra Research & Innovation decide to launch the Andorra ScaleUp Program and what were the results for you?
A: The launch of the scale-up program marked a significant success. The first edition produced incredibly positive results. We identified three finalists who had the opportunity to benefit from mentorship and connect with various experts. This has profoundly impacted our ability to explore how research and innovation can align with professionals in the sports sector to address ongoing challenges. By integrating data, innovation, and new tools, we can explore different perspectives. For instance, we can consider how sports results can be monetized in novel ways. The scale-up program has been instrumental in connecting us with these tools and the talented individuals within the sector. It's an exciting venture that we look forward to developing further.
Q: As we conclude our discussion, I'd like to hear about what's on the horizon for research and innovation. Could you provide insight into the projects currently on your radar and any plans for the coming year or other relevant updates?
A: One of our primary objectives at AR+I is to continue contributing to the development of our economy. While certain sectors are well-established, we believe that research and innovation can introduce new tools and opportunities. Often, research seems distant, confined to laboratories and academic institutions, disconnected from everyday life unless you're reading papers or academic publications. Our foundation's mission is to bridge that gap and connect research with real-world challenges, benefiting the general population. This remains one of our key priorities.
Moreover, we aim to continue supporting local research efforts, helping them navigate the process of tech transfer, which is relatively new for us. A robust tech transfer mechanism is essential to create successful spinoffs. We've already launched one spinoff related to mountains and we're keen to expand these opportunities for more individuals, including young talent, to become part of our team and drive innovation forward.
.