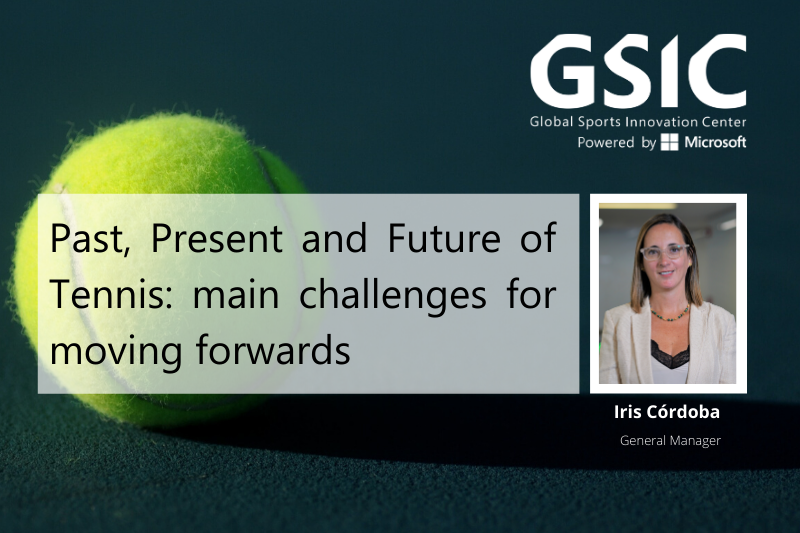 06 May

Past, Present and Future of Tennis: main challenges for moving forward

The current COVID19 sanitary crisis is an important global concern as it implies a completely new and uncertain landscape that directly affects the sports industry as well. While the majority of the world is under lockdown, sports entities are facing important challenges as they have had to suspend the planned events and competitions; and tennis has been no exception.

It is important to note that the implications of the COVID19 pandemic do not only alter the present of tennis but will also condition the future of it. Therefore, one of the main aspects discussed during the conference, was how will the post-crisis impact tennis moving forward.

In particular, sports governing bodies will need to rapidly develop new protocols for running mass tennis events (by working closely with sanitary experts). Actually, competition organizers will face 3 main challenges:
Space: Organizers will need to ensure the sufficient space capacity and mobility plans to comply with the physical distance measures (not only between tennis fans in the sitting areas but also between media personnel, event staff, and the players themselves). This may also require having an isolation room for suspicions of possible infected cases.
Information: Sports entities will need to deal with spectators' fear of contagion by ensuring their safety through the provision of prevention measures' information and recommendations before and during the tennis tournaments (i.e. hygienic products and health check devices such as cameras monitoring temperatures, tests…).
Costs: All the required measures to mitigate the COVID19 risks imply both a significant increase of the economic costs to be assumed by the tournament's organizers (provision of protective sanitary material, devices to keep social distancing in VIP lounges and stands, etc …) and further difficulties in exploiting their monetization models (as social distancing measures impede the commercialization of their whole space available to the crowds).
Therefore, in a context of high uncertainty, tournaments' ability to adapt to all the possible new scenarios will be a key survival factor. That is to say, small tournaments could be the most affected by the crisis as although they are able to adapt their structures more easily than big tournaments, they lack some of the needed capacities and resources to do so.
During the past month, an important number of sports entities have already embraced innovation and reinvented themselves in order to keep tennis alive and people entertained while the duration of the crisis (through Artificial Intelligence, Virtual Reality, streaming, etc.). As an example, the Mutua Madrid Open 2020 was supposed to start in May but, as it can't be disputed, they have created the alternative virtual edition to keep their product on the fans' top of mind.
As a matter of fact, in the past few years, there has been an important rise in the growth of eSports and these types of virtual initiatives are showing very positive results in enhancing fan engagement during the quarantine (especially in younger generations). However, the virtual tournaments lag behind the experience and excitement created in live tournaments. Hence, in the future of the tennis industry, the digital world will be an interesting complement for the physical one but not a substitute.
As during the COVID19 crisis on-site audiences become smaller, media will become even more important than ever. At the same time, sports will face increasing democratization of media where more players can produce and distribute sports content (OTT, linear TV, PPV, Social Media, etc.).
It could be said that tennis has managed to adapt to the new media paradigm (i.e. through the development of an own ATP Tennis OTT). However, finding the right balance between the different platforms is not enough to present an attractive broadcasting product and tennis will also need to maximize the creation of attractive content to engage fans.
Actually, younger generations are disrupting media consumption as they are most likely to be searching for shorter formats and also more interactive content before, during, and after the match. Many entities are already doing big efforts in adapting tennis tournaments to directly respond to the different stakeholders' evolving needs.
Two good examples are:
The Next Gen ATP Finals feature different rules that aim at bringing more excitement to the game.
Kosmos has redefined the Davis Cup to modernize and elevate the competition.
However, other big tennis tournaments such as the Grand Slams are already very successful, and thus, reluctant to some rule changes. Then, innovation applied to competition formats needs to be also combined with innovation in the commercialization processes (tennis entities will need to find out new ways to engage their different targets through the creation of customized experiences according to their preferences).
To that aim, stakeholders will increasingly capitalize on technology to better present all the content that tennis is able to create 24/7. This sport has the capacity of grabbing all sorts of data and through its analysis, organizations will be able to have a 360º view of their audiences and apply it to develop new monetization models by offering them the content they are demanding.
As a way of example, sports entities will be able to exploit the provision of highlights and real-time statistics, push notifications that engage fans to connect to the game at a specific moment, the possibility to choose between different broadcasting views (e.g. fantasy or traditional) and promote the interaction with tennis stars.
To sum up, the future presents new opportunities for tennis but also new challenges that will lead to a different picture than we have now. The ability of tennis organizations to adapt to a changing landscape and to innovate will be key success factors for the development of the industry., and digital transformation will become a pivotal ingredient of the successful equation moving forward.