01 Dec

Podoactiva receives the 2020 Huesca Company Award and the Innovation and Digitization Award

In the last three months, Podoactiva has received two significant regional awards. Firstly, we have received the "2020 Huesca Company Award", organized by the Huesca Chamber of Commerce and Industry, CEPYME CEOS, and the Aragonese Development Institute (IAF). The gala was held at the Aragon Planetarium at the Walqa Technology Park. Since the beginning of the company in Huesca, commitment to innovation and continuous improvement in all its processes were the key elements highlighted by the jury on Podoactiva. However, another fundamental aspect valued by the jury was Podoactiva's collaboration in the fight against Covid-19.

On the other hand, we have received the Innovation and Digitization Access by the Official Chamber of Commerce, Industry, and Services of Huesca, within the framework of the awards 'PYME of the year of Huesca 2020', convened by the entity together with the Santander bank.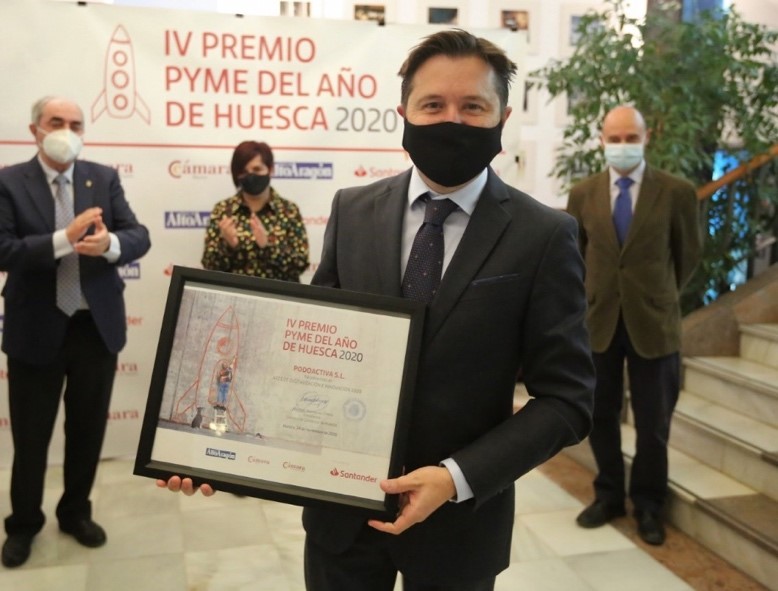 The jury has recognized our innovative talent and the development and activation of our own technologies and procedures that benefit biomechanical treatments, with numerous registered patents and sustainable and digitized manufacturing processes.
This last award was presented in a ceremony in the Assembly Hall of the Huesca Chamber of Commerce and was attended by Victor Alfaro, representing Podoactiva. The general director, who received the award, said he was "pleased to receive this recognition of our city's social and business fabric. We are very proud to carry Huesca's name throughout Spain and other countries where we have a presence".