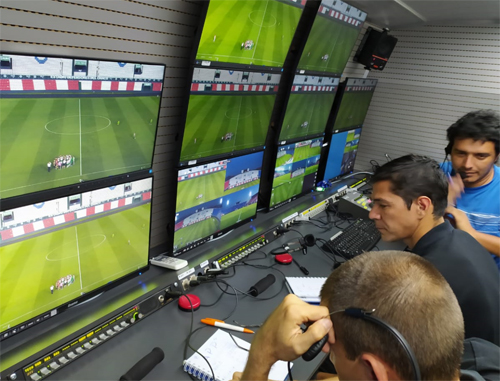 23 Jan

The MEDIAPRO Group installs VAR in Paraguay

The MEDIAPRO Group has been entrusted with the installation of Video Assistant Referee technology (VAR) in Paraguay, where January 16th saw the first round of games of the 2020 First Division (APF) season get underway. The deal sees the Group provide services for the next three seasons 2020, 2021 and 2022.

The First Division features 280 matches, with two games every Friday, Saturday, and Sunday. MEDIAPRO will provide coverage of the six games every weekend with 3 OB vans operated by two technical directors, four certified International Football Association Board (IFAB) operators and two productions technicians. The MEDIAPRO staff have been testing the technology in the lead-up, to the start of the season and have satisfied all the demands of the Paraguayan Football Association, as well as holding all the corresponding international certifications for the correct use of the video technology.

In addition to Paraguay, where MEDIAPRO acquired the broadcast rights for matches involving the Paraguay national team until 2022, the Group also provides services for the leagues in Chile, Mexico as well as other countries in Latin America, the UAE, Greece, Kuwait, Morocco, and Portugal.