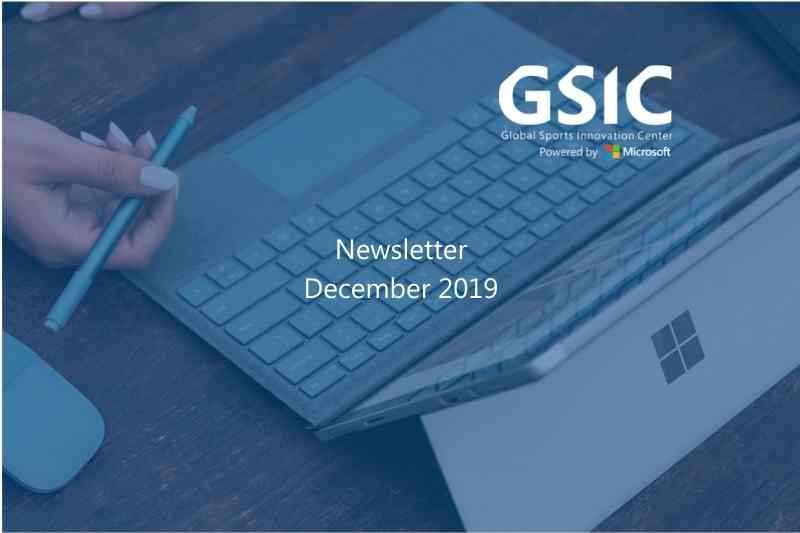 30 Dec

Newsletter – December 2019
What we achieved in 2019 and what is coming in 2020

2019 was a remarkable year of growth and changes for us, and we at the GSIC powered by Microsoft appreciate having you as a part of our network. We want to thank all of our members who are renewing the membership from year to year, and we also appreciate the trust of those members who have just joined our family at the beginning of the year.

Our network keeps on growing. We are delighted to have members from over 36 countries and are even more excited to have welcomed Brazil, Cayman Island, Colombia, Ecuador, Monaco, and Uruguay as new countries to our map.

We have increased the volume of our activity due to many new members this past year. This gave us an opportunity to have more people working in GSIC team.

In 2020 our members will have an opportunity to benefit on a bunch of new activities and initiatives such as:

New

Strategic Plan 2020 – 2023

with new services and activities

Microsoft Sports Partners' Solution Portfolio,

which MS Sports team will promote directly to the sports entities they are working with
New

investment

activities
New

Business Trip

Collaboration projects with sports clubs

Opportunity to celebrate an opening of a GSIC satellite in another continent
New editions

of

Sport Thinkers

in different kind of sports

Collaborations with Spanish and international media, and much more!

Without any doubt, our 2019 was full of exciting challenges, opportunities and opened us new horizons, and we also thank our partners and collaborators outside GSIC member's network who's always showing their support and are willing to work together in order to foster the industry by joining forces!

Virtual Meeting – Smart Stadium applied solutions, January 14, 10:00

January 14 at 10:00

– Meet

Solos

,

and

Snaptivity

during our Virtual Meeting dedicated to solutions that improve Smart Stadium experience.

Esports Legal, Financial and Insurance Callenges – February 4, 10:00

On February 4 at 10:00, we will hold the third meeting of our Think Tank organized in collaboration with

Global

Esports

Summit

. This time we will host speakers from such companies as

L

iberbank

,

O

ntier

and

M

apfre

,

to discuss with them the main legal, financial and insurance aspects in Esports currently.

Don't miss this session!
Participate in the Business Meeting with Atlético Nacional de Medellín!
At the Global Sports Innovation Center powered by Microsoft (GSIC) we are constantly working on bringing innovation to sports entities and helping them with their digital transformation processes prescribing our members' solutions.
This time we are collaborating with sports club Atletico Nacional of Medellin to organize on January 15 at 15:30 a Business Day where the club's representatives will be looking for innovative technologies in Fan Engagement and Business Insights areas, focused on membership, loyalty and customer services.
Club Atlético Nacional S. A., also known as Atlético Nacional, is a Colombian professional football team based in Medellín. The club is one of only three teams to have played in every first division tournament in the country's history, the other two teams being Millonarios and Santa Fe. Considered to be one of the strongest clubs from Colombia, it is one of the most consistent clubs in the country. Atlético Nacional has won 16 league titles, four Copa Colombia and two Superliga Colombiana, a total of 22 domestic titles, making it the most successful team in Colombia. In 2016 Atletico Nacional won Copa Libertadores.

Any of GSIC members with solutions in these 2 areas can apply for the participation in Business Day with Atletico Nacional. Don't miss the opportunity!
Save the date for Business trip to Italy!
GSIC is preparing for its members a Business Trip to Italy so they can have an opportunity to meet the most relevant sports entities of this country. This activity will take place on March 3-4 of 2020 and we will visit Rome and Milan.

Pre-register now and we will share with you more details in the upcoming days.
Don't miss the opportunity!
Esports Brands Challenges – December 17
On December 17 GSIC organized in partnership with GES a seminar on Esports Brands challenges to which we invited Mahou San Miguel, Movistar Esports, Razer and Fiesta Colombina to share their experiences sponsoring esports.

This new GESx raised a colloquium between great professionals in which we discussed the role of the collaborating and sponsoring brands since they represent a large part of the economic impulse of the main agents of the territory: players, leagues, and events.

Our members can watch the recording of this session in our private members' area.
Virtual Meeting – Innovative technology enhancing players performance
On
December 10 at 5 pm
we held a Virtual Meeting

"Innovative technology enhancing players performance"

.
This VM was the first one from the series of sessions with the winners of Startup Competition 2019 that we organized together with LaLiga.
Our speakers from Thermohuman, IBV and Jump shared their solutions applied to team & player performance as well as to injury prevention. They also talked about their experience participating in the Startup Competition 2019 and working on the pilots with LaLiga.

Our members can watch the recording of this session in our private members' area.
Virtual Meeting – How to enhance your sports fans
Following the first Virtual meeting with Startups Competition 2019 winners, we organized on December 12 at 5 pm (Madrid time) we invite you to attend a Virtual Meeting "How to engage your sports fans".
Our speakers from Fanwide and Watafan shared with our members their solutions applied to fan engagement and explain the platforms they developed for that. They also shared their experience working on the pilots with LaLiga.
Our members can watch the recording of this session in our private members' area.
December 17 at 5 pm we held the third session with te winners of Startup Competition 2019 from the area of media and this time we talked about "Trending solutions for media in sports industry".
Our speakers from Cinfo, Sceenic and Spalk shared with the ecosystem their solutions applied to broadcast and streaming of sporting events.
Our members can watch the recording of this session on or private members' area.
Students from La Salle University Barcelona GSIC is offering a keynote at Mass
are on Inspiration Day at GSIC, December 3
Participation World 2019 in
Singapore,
December 1-3
GSIC is traveling to Mauritius to deliver Students from Sergio Arboleda University
a workshop on innovation in sports,
of
Colombia, are learning about
December 11
technology applied to sports,
December 12
Join our new LinkedIn private group for GSIC Members!
At the GSIC we are continually working on the creation of different opportunities for our members in order to help them grow. This time, after a joint design thinking session held during GSIC Summit on September, we have launched a new private group for GSIC members on LinkedIn to provide a new space where they can share their news, interesting feed for the sports tech ecosystem and reach out to other members for networking.

If you are a GSIC member, you can join the group on the following link.
Members Area is available for all GSIC members
All GSIC Members can already access the private Members Area using their unique credentials. Members Area is an intranet, where all the Center's members can find now more information about each other, share their content and get exclusive news from GSIC and its members.

If you are a GSIC member you can benefit from using this private area where you will find Virtual Meetings, Members catalog, Content shared by members, Working groups, Photos of activities, Microsoft Training, Important documents, Events.
Get to know new members who joined the GSIC in December 2019
Get paid to watch your favorite sports team! FanWide launches FanChain on its platform to reward sports fans
FanWide, America's largest fan club network, has integrated FanChain into their platform, allowing fans to earn FANZ tokens whenever they watch their favorite team. FanChain by SportsCastr rewards fans through engagement, such as going to events, sharing on social or entering a raffle. The FANZ Tokens can be trading in for cash, prizes and other sports-related merchandise, or they can be exchanged for other goods and services within the FanChain network.
VU Security opens a new office in
UK
to continue its international expansion
The multinational cybersecurity company, which operates in more than 22 countries, lands in London with the aim of expanding to the European market.
VU Security, a multinational cybersecurity company focused on fraud prevention and identity protection, which has already more than 100 corporate clients in Latin America, announces its landing on the European continent with the opening of a new office in London, under the name VU Security Limited.
During 2019, prestigious entities from different parts of the world recognized VU's effort to improve citizens' lives: Microsoft Country Partner of the Year, Softshell Vendor Award in Germany, winners of the Accelerate Spain program, and as finalists of the competition organized by the New York City Hall and Jerusalem Venture Partners, Israel's leading venture capital firm.
Tech Innovation of the Year award
Our congratulations to Sponix Tech for winning the Tech Innovation of the Year award in BroadcastPro ME Awards 2019. The award is the result of the genuine talent and works of the innovative tech team at Sponix. The long path to progress is still ahead, but Sponix team is in the right direction to become a main player in the sports technology market.

Nine years ago, the BroadcastPro Summit & Awards first created a unique and dynamic forum for knowledge sharing and collaboration between broadcast professionals in the Middle East and North Africa. Now meticulously evolved by CPI Trade Media, the 2019 edition held on November 3 at Habtoor Grand, Dubai Marina, featured a remarkably rich debate on the key issues impacting the sector, bringing together more than 200 of the industry's top professionals – and concluding with a glittering awards gala celebrating the market-makers and creative talents who push the bar ever-higher.
Ronaldo L. Nazário, president of the Real Valladolid, and Luigi de Siervo, CEO of Italy's Serie A, will offer stellar keynotes during Sports Summit México 2020
The Sports Summit MX, the largest business and innovation event in the sports industry in Latin America, has announced a lineup of outstanding figures that will be present on February 26 and 27 at the Citibanamex Convention Center in Mexico City.
The organization confirmed that the 2020 edition will end on a high note thanks to the participation of international football legend Ronaldo Nazário in his capacity as President of Real Valladolid. World champion for Brazil in 1994 and 2002, named the best player in the world three times and three-time winner of the Golden Ball, Ronaldo arrives as an entrepreneur to relate his challenges and achievements after one year as the president of the Spanish club.
Another outstanding figure that will attend as a speaker is Luigi de Siervo, CEO of the Italian Serie A, a top-level executive of one of the most valuable championships on the planet. He will share his entire strategy as well as the main keys in order to combat piracy.
Fly-Fut begins recording with drones in Barcelona
The Spanish Startup demonstrates the first step of scalability and already serves in Madrid and Barcelona

Fly-Fut is changing the world of football. The start-up, which began its activity in 2017, is a pioneer in the recording of amateur football matches with drones. Fly-Fut has a clear objective: that amateur soccer players feel like their idols, like professional soccer players. Since he began his activity, he has managed to film more than 2000 official meetings. The start-up has achieved that approximately 5000 players do not miss a minute of their matches. The entire community it serves can enjoy their football through the Fly-Fut app in two formats: the full game and with a highlight of the best moments of the meeting with commentator and professional effects.
Next January 29 GSIC will be attending a Brokerage Event in Brussels organized by the European Platform and Sport Innovation who's carrying out this activity in order to support partners and organizations in developing their sport ideas, turning them into real European projects: Sports Project Lab 2020.
In EPSI House Of Sport (Rue Joseph II, 40), attendees will participate in active round-table sessions with different consultants, experts in four different EU co-financing programs: Erasmus+, COSME, Horizon 2020 and LIFE.
The inaugural event in 2018 featured 700+ executives and 350 sporting organizations, establishing itself as the world's most disruptive sports technology conference. For 2020 it has been rebranded and refocused as the Digital Transformation in Sports Summit, providing the platform for world-leading insight on how global and domestic sports, media and technology brands can
optimize
digital technology to improve fan engagement and experience, whilst expanding revenue streams through digital innovation.
How do organizations remain at the forefront of the way people play and watch sports, both live at the event and at home? How successfully are traditional right holders embracing eSports and will it ultimately increase or decrease traditional sports engagement? How can rights holders
maximize
their opportunities with OTT/ streaming services?

Microsoft Sports team will be offering a keynote at this event.
Sports Summit México will be back on February 26 and 27 in Mexico city!

One of the biggest sports industry events in LATAM will bring together the industry's stakeholders again to discuss its main topics: fan engagement, anti-piracy, innovative technologies, digital transformation, and much more.

Our General Manager Iris Cordoba will be attending this event with a keynote.
Sportbiz
europe
is the meeting point for the sports business sector, with a distinctive stamp of qualified networking, in a casual and inspiring atmosphere. a two-day event in the exciting Barcelona, focused on the hottest topics in the industry, in transformation, innovation and in foreseeing the market's future.

Get now the Early bird tickets with
50
%
of
discount!

Our Director of Business Development and Innovation, Iñigo Bonilla, will attend this event with a keynote.
Interested in becoming GSIC Member?
Over 240 entities from 36 countries have already become GSIC members!
Join them and benefit from all our activities: Networking, Virtual Meetings, Working Groups, Business Trips, Innovation Days, Inspiration Days, Co-creation Workshops, participation at startups
competitions
, attendance to the international events and more.
Fill in the Form on a link below to apply for GSIC Membership.