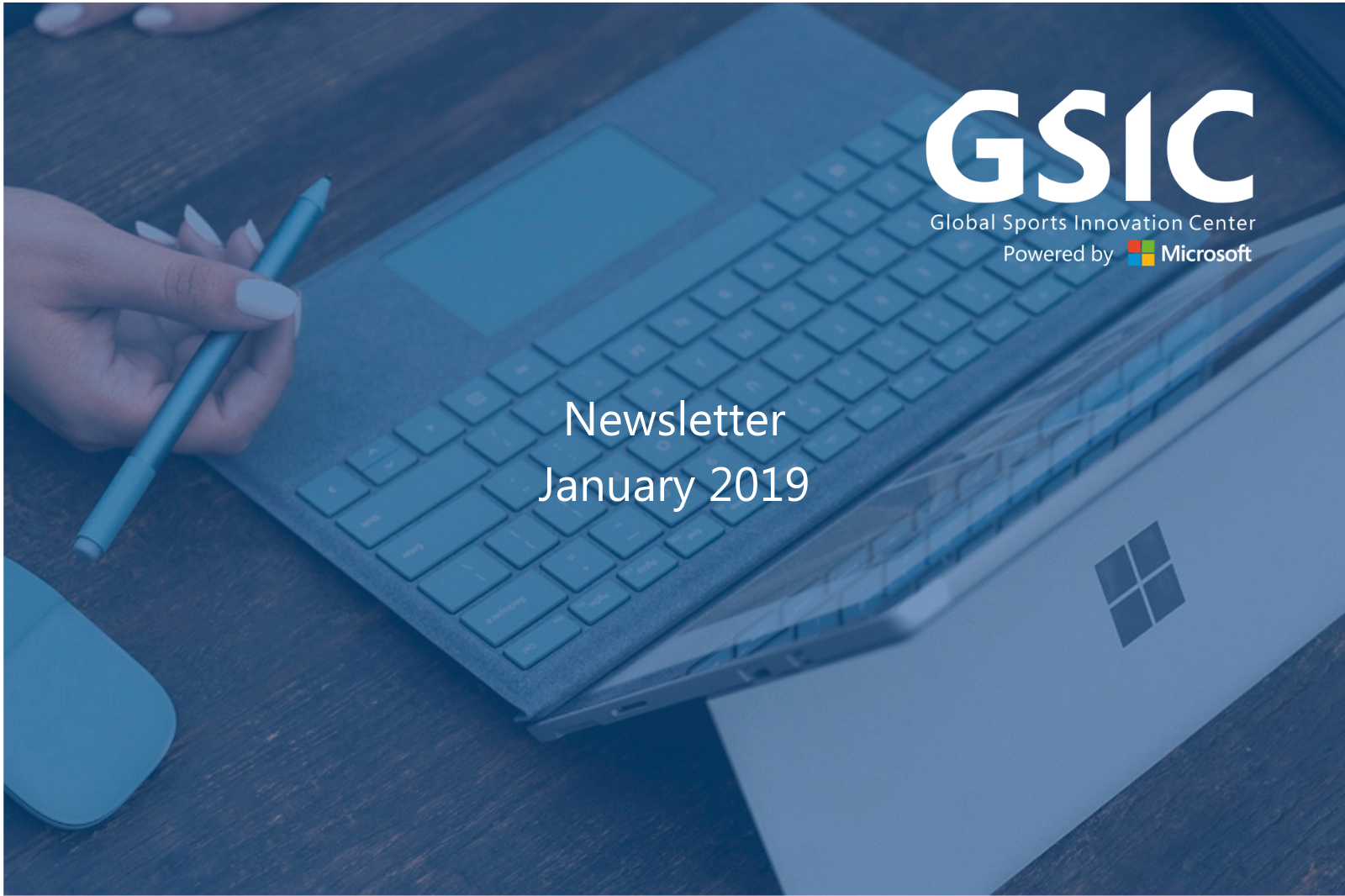 01 Feb

Newsletter – January 2019
Startup Competition 2019 Call is Open!

LaLiga and GSIC launch the largest global competition for startups on disruptive solutions in the football, sports and entertainment industry


LaLiga and the Global Sports Innovation Center powered by Microsoft (GSIC) present the Startup Competition 2019 by The Original Inspiration Centre by LaLiga supported by GSIC, a joint initiative to identify the best technological developments in the sports and entertainment industry. The aim is to empower digital talent developing disruptive solutions in the football, sports, and entertainment industry which can help continue LaLiga's growth in the field of technology and innovation, by means of a global technological startups competition that closes on March 30.

Sport Thinkers eSports Competition's finalists are chosen!

The call for the Sport Thinkers eSports had finished on January 15 and the names of the 10 finalists of this competition organized by the Global Sports Innovation Center powered by Microsoft in collaboration with the Mediapro are already known. This competition for technology-based companies aims to identify and select innovative initiatives that will have a positive impact on the digital treatment of business models associated to eSports to support them and offer collaborative business opportunities with Mediapro.

Virtual Meeting – Fan engagement Monetization –
February 12, 16:00

Virtual Meeting – Access control for sports venues –
February 20, 11:00

DevOps with Microsoft solutions, Azure Application Services

and

Serverless –
February 25, 09:00

Check all the international events we're collaborating with, in the last section of the Newsletter!
New activity for our members – Let's Talk!
Global Sports Innovation Center powered by Microsoft invites all its members to participate in our new initiative named "Let's talk!" with an idea to stay in touch continuously every month, share with our news and listen to you.
Each Talk will take place on the last day of each month and will last approx. 30 min. We will schedule different sessions according to different geographical and time zones.
If you want to share your updates and know about ours, next Talks will take place on February 28.

GSIC is officially an EPSI member
The members of the European Platform for Sports Innovation (EPSI) have officially approved the full membership of the Global Sport Innovation Centre – GSIC.
EPSI is a networking organisation that focuses on innovation in the area of physical activity related to sport, leisure and health in Europe. EPSI strives for a more innovation-friendly environment for the EU's sports industry in order to stimulate technological innovation and to set up innovative technology businesses.
With this membership, GSIC will be able to provide its members with an access to a EU wide network for sports innovation for coordinating and managing EU / national project developments and project execution, creating a strategic research agenda for the entire sport industry, informing policy makers on sectors Strategic Research Agenda and more.

Have you met..? – Hector Prieto , CEO of YBVR
The company YBVR (Yerba Buena VR) joined the GSIC in April of 2018 and since that moment the US / Spanish startup has been making success wherever it went. They have collaborated with the Madrid Mutua Open, they won the Startcup Challenge 2018 (the startup competition that took place at the World Football Summit 2018), they have been winners of Sport Thinkers Smart Stadium and now they are developing a pilot with the Real Sociedad football club, and this January they have been at the Australian Open producing contents for exclusive virtual reality experiences in 360 live video.
We interviewed Hector Prieto, the CEO of the company, while he was at the Australian Open. Hector shared details of the experience he was living during the days of the championship, as well as the history of the path he took along with his startup towards Melbourne Park.
Get to know new members who joined the GSIC in January 2019
The WiZink Center finished 2018 as the third busiest venue in the world
The
WiZink Center
l
ocated in the Community of Madrid has entered the podium of the most active venues in the world in 2018, achieving the 3rd place in the "Top 200 World Arenas" ranking of the American magazine "Pollstar", leader in information on concerts and the music industry for more than 30 years.
The Madrid's venue achieves this position thanks to the 179 events that it has hosted this year, a new record in its occupation figures, overpassing the one million spectators in concerts and family shows to which we must add almost half a million more in sporting events; and it is placed as the first enclosure in Europe and the third in the world, only behind the first one, Madison Square Garden in New York; and The Forum, in Los Angeles, California. The O2 of London, due to a technical problem of communicating its events to Pollstar, appears in more delayed positions when it would have to return to occupy the first place in the ranking.
Another way to train better forrtball players: with Virtual Reality
SoccerDream offers a VR training tool to accelerate the football tactics of the player, focusing on the training of cognitive abilities aside from the physical & technical abilities. Being used already in the academies of top clubs as a Champions League Club and the #3 club of China, SoccerDream aim to accelerate product development and deploy operations in China and US for a full-scale launch later. For that reason, SoccerDream has launched a capital increase round in which anyone can participate, starting at only 1,500 euros ("Equity Crowdfunding"). Discover why you shouldn't miss this investment opportunity, with huge profitability potential, and that will bring you closer to the world's leading football technology.
StanceBeam Striker launched World's first, commercially available Smart Cricket Bat Sensor in partnership with Global leading Cricket Brand "Kookaburra".
Kookaburra, the cricket brand renowned for its innovation in cricket has announced a partnership with StanceBeam – a global technology leader from Bangalore, India – to bring the first connected cricket bat sensor to market in 2018 that allows players of all levels instant cutting-edge analysis of their game via a mobile app.
The StanceBeam Striker can be placed on any cricket bat, giving live feedback to players, coaches and fans about their game. Using such metrics as Bat Speed, 3D Swing Analysis, Power Index and Shot Efficiency, the StanceBeam Striker is able to bring a new level of information to the fingertips of players, coaches and fans in real time.
N

ext February 20 and 21, our General Manager Iris C'ordoba, will participate at Sports Anti-Piracy Summit that will take place in Mexico City.


This

event is designed to be a meeting point and exchange between the main leagues, clubs, leaders and associations in the field of sport, with the aim of monitoring and discussing the progress of the problem of piracy in all its expressions, the

protection of sports rights, innovation in sports, digital transformation and new technologies.




GSIC members can benefit from a 20% discount on both Early Bird tickets and later categories and the special price on the stand.
Next March 11, the Global eSports Summit will take pace in Madrid.
Our General Manager Iris Córdoba will be one of this event's speakers where she will share togeher will our strategic partner Mediapro, the experience of Sport Thinkers eSport cometition.
GSIC members can benefit on a special price for VIP tickets. You can get yours for only 100€ instead of 170€. Hurry up, the number of tickets is limited!
LWF – Leadership Congress for Women in Football, will take place on
March 28 and 29,
at
the WANDA Metropolitan Stadium in Madrid, Spain. The event is organized by Bellver Sports and Full On and has the support of the main sports entities and institutions in the country.
The Congress is international, with lectures in English and Spanish, aimed at all stakeholders (whether men or women) in the promotion and promotion of women's leadership in football in all areas, executives, managers, management and women's
football
All the GSIC members can benefit on a
special 20% discount
on early-bird tickets that will be on sale since January. Right now you can pre-register to benefit on this offer.
.
TheStadiumBusiness Summit celebrates its 10th edition on 4-5 June 2019 in Manchester, UK by bringing together the global stadium, arena and major sports venue industry. #SBS18 hosted global names such as Seattle Seahawks, Eden Park, Adelaide Oval plus many more and we're sure our 10th birthday is going to be even bigger. Alongside the international conference programme, TheStadiumBusiness Summit incorporates a compact boutique marketplace of specially-selected suppliers.
The GSIC members can benefit on an exclusive offer of £995 including 2 hotel nights, a total saving of over £450.