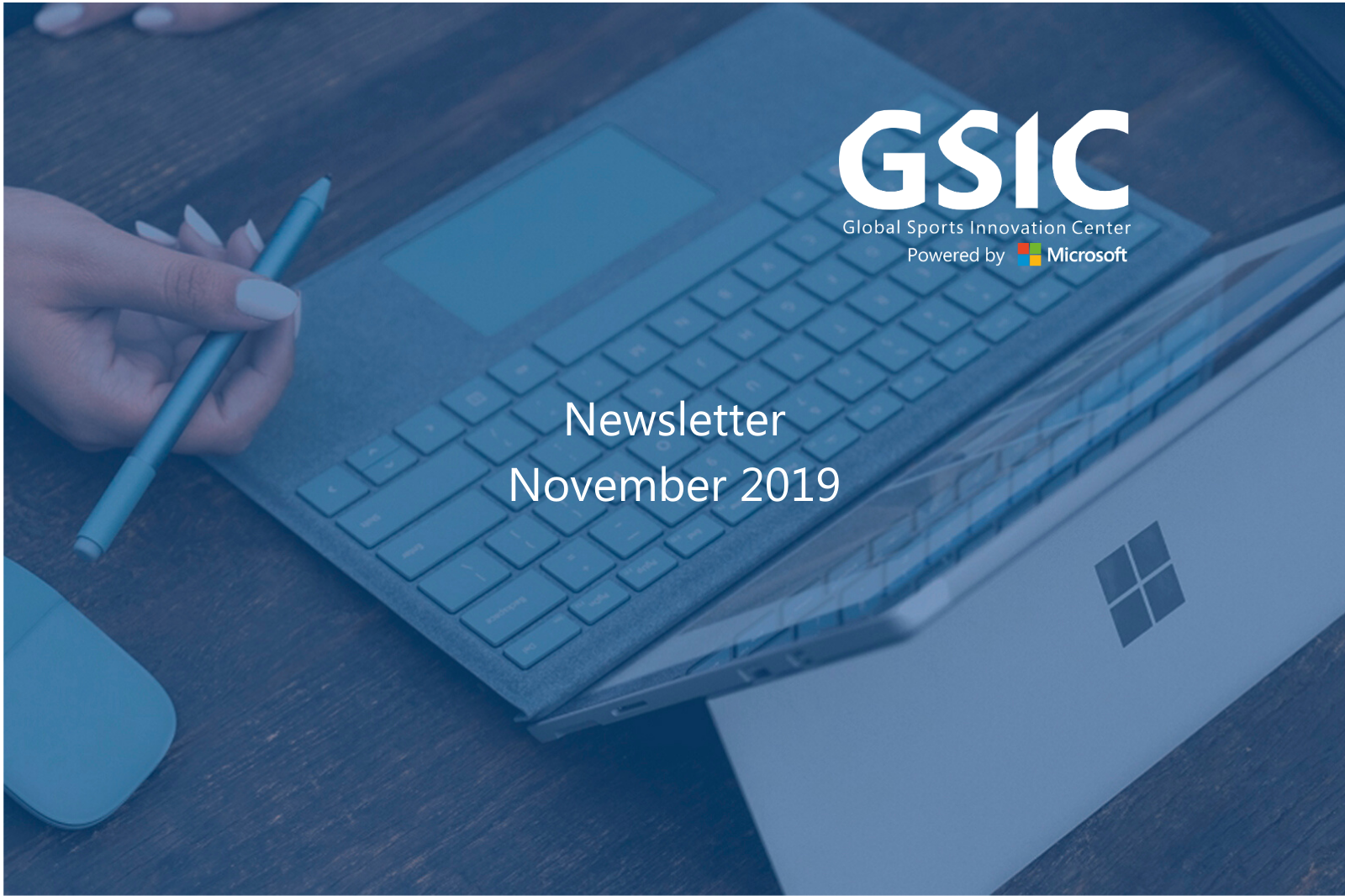 19 Dec

Newsletter – November 2019
The first meeting of the GSIC Committee for Education

On Thursday, November 28, GSIC held the first meeting of its Committee for education which now is composed by Camilo Jose Cela University, Alfonso X El Sabio University, Pons IP, ESBS European Sports Business School, Nanfor Iberica, and Sports Talent Lab.

GSIC continues to develop activities in the scenario of education, helping different educational entities associated with our network in detecting the opportunities related to the digital transformation processes of the sports industry.

Within this new committee, we want to create a workspace of ideas generation and debate on challenges when facing education, training and applied research in the sports industry, as well as its relationship with new technologies, the digital transformation of the sector and the search for talent. This Committee seeks to create a space of knowledge transfer and try to position in a mutual and individual way the initiatives that are being carried out in the sport, innovation, and technology.

At the beginning of 2020, we will hold the next meeting of the Committee to start shaping new projects that will help the talent and sports industry to connect.

Digital Inertia: Keys to think of a Digital Strategy nowadays

On November 4 we held a special event with founders of a digital marketing agency from Argentina,

Interactivity

,

Gustavo Mames

and

Ariel Kogutek

who offered this activity to

GSIC

members, which was an excellent opportunity to understand how the phenomenon of Digital Inertia affects the way we use online resources for business. Both shared personal experience gained with their agency on how to be up to date in a world that does not stop changing: algorithms, usability, content strategy, and platforms.

Virtual Meeting with Microsoft Partner Network

On November 19 we held a Virtual Meeting on "How to benefit from Microsoft Partner Network" with Lieke Meeuwissen, Partner Channel Marketing Manager and Jan Willem Barkmeijer, Partner Marketing Advisor for SMB and Central Marketing Engines at Microsoft, who gave a brief introduction about the Microsoft Partner Network and went through the Go-To-Market programs that can help Microsoft Partners with their marketing strategic plan as well as they explained all the marketing benefits and resources for partners' solutions. GSIC members can watch the recording of this session on our private members' area.

We remind you that you can become Microsoft Partner and start getting benefits of the program completely for free, registering here.

GSIC participates in Sports Tech Nation 2019

On

November 24 and 25

GSIC team traveled to Tel Aviv to participate in

Sports Tech Nation 2019

, the international summit of the sports tech industry, that gathered prominent leaders to discuss the latest trends, to provide investors and key players unique opportunities to get acquainted with the most disruptive ventures from the industry.

On the first day of this event organized by

Colosseum Sport

, our General Manager,

Iris Cordoba

moderated a panel on

"How the leading clubs & organizations adopt innovation"

where she discussed with

Jean-Baptiste Alliot, Ofir Frank, Moritz Michael Mücke, Amir Tito

, and

Piotr Zmijewski

digital transformation initiatives in

UEFA, Maccabi Tel-Aviv Basketball Club, Bundesliga International GmbH, Israel Swimming Association,

and

Legia Warszawa S.A.,

and the results they have got so far in finding business models, scalability and revenue in this processes.

On the second day of the event our Head of Business Development and Innovation,

Iñigo Bonilla

, presented the GSIC and our members' innovative solutions.

Virtual Meetings with Startups Competition 2019 winners

Virtual Meeting – Innovative technology enhancing players performance, December 10, 17:00

December 10 at 17:00

– Join us and our members

IBV

,

JUMP

, and

Thermohuman

for the Virtual Meeting where they will hare their innovative solutions that help to improve athlete's performance.

Virtual Meeting – How to engage your sports fans, December 12, 17:00

December 12 at 17:00 – Meet Fanwide and Watafan during our Virtual Meeting dedicated to solutions that can help you to engage your fans in the best way.

Virtual Meeting – Trending Media Solutions for media in the sports industry, December 17, 17:00

Virtual Meeting – Smart Stadium applied solutions, December 19, 10:00

December 19 at 10:00

– Meet

Solos

, and

Snaptivity

during our Virtual Meeting dedicated to solutions that improve Smart Stadium experience.

Esports Brands Challenges – December 17, 10:00

On

December 17 at 10:00

, we will hold the third meeting of our Think Tank organized in collaboration with

Global Esports Summit

. This time we will host speakers from such companies as

Mahou

,

Fiesta

and

Movistar

, to discuss with them what are the main challenges of big brands in Esports currently.

Don't miss this session!

Students from Sergio Arboleda University LaLiga Business School students are
on Inspiration Day at GSIC, November 12 visiting, GSIC November 14
Berkeley University students are ALSO delegation is learning about
attending a workshop on Digital innovation applied to the sports
Transformation at GSIC, November 27 industry, November 27
Join our new LinkedIn private group for GSIC Members!
At the GSIC we are continually working on the creation of different opportunities for our members in order to help them grow. This time, after a joint design thinking session held during GSIC Summit on September, we have launched a new private group for GSIC members on LinkedIn to provide a new space where they can share their news, interesting feed for the sports tech ecosystem and reach out to other members for networking.
If you are a GSIC member, you can join the group on the following link.
Members Area is available for all GSIC members
All GSIC Members can already access the private Members Area using their unique credentials.
Members Area
is an intranet, where all the Center's members can find now more information about each other, share their content and get exclusive news from GSIC and its members.
If you are a GSIC member you can benefit from using this private area where you will find Virtual Meetings, Members catalog, Content shared by members, Working groups, Photos of activities, Microsoft Training, Important documents, Events.

Get to know new members who joined the GSIC in November 2019
Sensoria launches Sensoria Balance app
In an independent study conducted by one of the oldest and most prestigious universities in Europe, "University Federico II" of Naples (Italy), a pair of our Sensoria smart sock v1.0 with three embedded textile pressure sensors were compared to the clinical gold standard: a stabilometric platform (Zebris ZP).

The study's results showed a significant agreement between the Sensoria smart socks and the Zebris ZP center of pressure (COP) measurements, suggesting potential clinical use of Sensoria sock for low-cost home care-based balance impairment assessments.
Sports Alliance introduces Campaign Assistant
Sports Alliance, a company from the UK, launched its Campaign Assistant, a community-powered marketing tool, which represents a unique platform where the Sports Alliance Community can share and benchmark their campaigns and get ideas from others to set up new campaigns.

Community: Shared or pooled campaign data across all clients with 000s of campaigns

Visual: Engage with message, design & content in a visual UX

Data-driven: Analyse metrics, scores and tags for best practice
Seyu wins 2 awards of Hungarian Marketing Association
On November 27, the Hungarian Marketing Association held its annual award ceremony where Seyu's work was listed in two categories of the five Sports marketing Award categories. 'Seyu – Together for victory!' collaboration with ISL Budapest managed to get shortlisted in the 'Most innovative sports marketing collaboration' category, while their work with Telekom Veszprém handball team in the 2018/2019 season received a Bronze Award in the 'Best integrated sports marketing collaboration' category. We are delighted that we were able to contribute to Telekom Veszprem's success as the 'Most valuable sports team' in Hungary while Katinka Hosszu, whose supporters we aided with our solution on ISL Budapest, was awarded the 'Most valuable athlete' award.
SPOBI launches its new app
The new SPOBI App is a truly comprehensive system designed to help and cheer the sporting spirit of grassroots athletes, teams, sports clubs, and coaches by covering all their practical needs and steaming up their motivation.

Every day, athletes, their families, coaches, teams struggle to achieve better and better performance. They deserve to have their lives made easier.
Sportvalue analizes Copa Libertadores Final
Listen to the podcast (in Spanish) of a special episode Big Data Sports, dedicated to the first unique final of the Copa Libertadores 2019 between Flamengo and River. Our member Amir Somoggi from the Sports Value company, a Brazilian consultant specialized in sports marketing, analyzes the income of the clubs and the new stage of Conmebol started after the events of FIFA in 2015. The metrics at the service of the team's style of play, the financial health of the clubs and the profile on social networks to communicate with local and global fans.
Sports Summit México will be back on February 26 and 27 in Mexico city!

One of the biggest sports industry events in LATAM will bring together the industry's stakeholders again to discuss its main topics: fan engagement, anti-piracy, innovative technologies, digital transformation, and much more.

Our General Manager Iris Cordoba will be attending this event with a keynote.
Next January 29 GSIC will be attending a Brokerage Event in Brussels organized by the European Platform and Sport Innovation who's carrying out this activity in order to support partners and organizations in developing their sport ideas, turning them into real European projects: Sports Project Lab 2020.

In EPSI House Of Sport (Rue Joseph II, 40), attendees will participate in active round-table sessions with different consultants, experts in four different EU co-financing programs: Erasmus+, COSME, Horizon 2020 and LIFE.
The inaugural event in 2018 featured 700+ executives and 350 sporting organizations, establishing itself as the world's most disruptive sports technology conference. For 2020 it has been rebranded and refocused as the Digital Transformation in Sports Summit, providing the platform for world-leading insight on how global and domestic sports, media and technology brands can optimize digital technology to improve fan engagement and experience, whilst expanding revenue streams through digital innovation.
How do organizations remain at the forefront of the way people play and watch sports, both live at the event and at home? How successfully are traditional right holders embracing eSports and will it ultimately increase or decrease traditional sports engagement? How can rights holders maximize their opportunities with OTT/ streaming services?
Microsoft Sports team will be offering a keynote at this event.
Interested in becoming GSIC Member?
Over
240 entities from 36 countries
have already become GSIC members!
Join them and benefit from all our activities: Networking, Virtual Meetings, Working Groups, Business Trips, Innovation Days, Inspiration Days, Co-creation Workshops, participation at startups competitions, attendance to the international events and more.
Fill in the Form on a link below to apply for GSIC Membership.