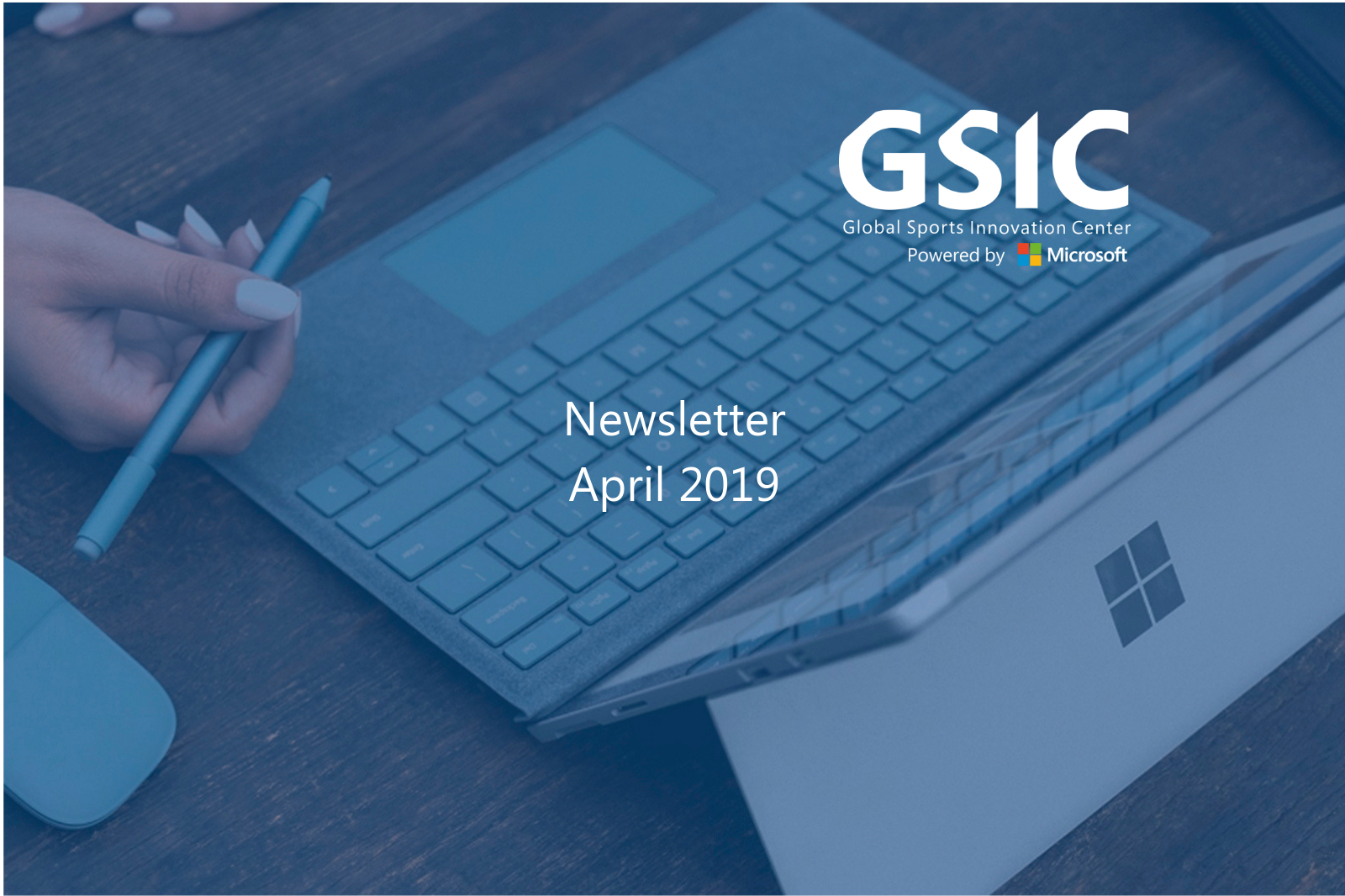 07 May

Newsletter – April 2019
GSIC held its 4th General Assembly of Members to take stock and plan future strategies

On April 23rd, the Global Sports Innovation Center held the 4rd General Assembly, in which both the management aspects related to 2018 and the action plan for the year 2019 were approved unanimously. The General Manager of the GSIC, Iris Córdoba, presented the key figures corresponding to the operational and economic activity during the last fiscal year, which are included in the Activity Report of the GSIC.
She also presented the strategic lines of work that have already begun to be implemented during 2019, among them the strengthening of working groups, the development of Expantion Plan 2020, GSIC Institute, new Members Area a virtual meeting program and new activities for members.
The full report was unanimously approved by those attending the General Assembly.

Virtual Meeting – The new challenges of eSports moving forward

GSIC Let's Talk! – May 2019
We're inviting our members for GSIC Summit
We've been waiting for the perfect moment to bring you the biggest international event for our network and here it is!
We are organizing our first Summit for GSIC Members in order to bring you all together for 2 days full of intensive work, networking, knowledge transferring and also catching up with our team!
Save the dates in your agendas: 11th and 12th of September of 2019
We are preparing for you the agenda that will include co-creation sessions on the trending topics of the sports industry, working groups sessions and also, for the first time, we are planning to host a European Leagues Innovation Day*. This is a great opportunity to meet and potentially pitch to many football leagues in Europe who are members of the European Leagues (EL) association.
This activity is exclusive for GSIC Members and you can register now filling this FORM.
*The European Leagues Innovation Day is TBC and participation is subject to EL approval.
Investment for GSIC Startups
On the last week of April, startups associated to the GSIC had received a private invitation to the event we organized together with More Than Players Foundation created by elite athletes (active and former) from the most important leagues in the world, to support entrepreneurship in the sports industry. Hand in hand with Offside Communication agency and the GSIC by Microsoft, this initiative was carried out with the intention of uniting the true protagonists of the industry, the athletes, with the entrepreneurs who try to innovate within the sector.

Since the GSIC opened its doors at 2015, we have been gathering information on the best technological solutions and services linked to the sports industry, thanks to participation in international competitions and a solid network of partners, experts,
and
ambassadors. This investor event was exclusively by invitation where we included GSIC members and startups who were finalists at the different startup competitions that we organized or where we were part of the jury.

If you are a member of the GSIC and you are searching for investment, you can complete the form you can on this link

and we will notify you about the next
opportinity
.
Our showcase located on the ground floor of our headquarters had been renewed for the past months and now it's a more modern and efficiently distributed space that we divided by main sports industry areas, performance, esports, smart stadium, fan engagement, and business insights.

You can find new solutions of our members that we have introduced this year to the exhibition and test them in real time. Also, our showcase is open for organized group visits, you can book yours contacting

[email protected]
27 GSIC members are already professors of GSIC Institute educational programs
While our educational programs are shaping, different professors for our Master and Sports
Entrepreneurship
course are joining GSIC Institue to offer their expertise
on
sports
industry to the future students. All our professors are members of the GSIC and 27 of them have already committed to the initiative in order to design programs of classes that will adjust and represent in the best way current situation on the different sports industry scenarios.

Some of the members participating as professors of the Master in Digital Transformation of Sports Entities are

Atos, Atletico River Plate, Levante UD, Real Sociedad,

Minsait

, Prosegur, 3D Digital Venue, Conmebal, Podoactiva, Microsoft Sports

and more.
We remind you that you can watch the recording of the Open Day session to get informed about the program here and if you are interested in entering this Master, contact

[email protected]

or

[email protected]
Visit the web site for more info about GSIC Institute -> http://institute.sport-gsic.com//en/
On February GSIC had announced the preparation of a paper on "Digital Transformation of the sports industry in 2025: Envisioning the future", based on the knowledge and experience of our members to keep our global leadership and positioning in the digital transformation of the sports industry, and also as an entity who helps to envision the future of sports worldwide through digital innovation.

This document's main goal is to tangibilize the global leadership of GSIC in this field and, thus, the global leadership of the members of GSIC in this space. And currently, all the results are gathered and being processed to shape the paper and to be able to present it to the sports industry in the near future.
World Football Summit closes its first edition in Asia with 1.600
On April 29th and 30th, the World Football Summit Asia took place in Kuala Lumpur.
The congress offered quality conferences in its two stages, where world-class speakers discussed and debated the key topics of the industry with a special focus in the region and it closed its first edition in Asia with more than 1,600 attendees and a hundred accredited journalists in its international debut, which will continue next year.
The GSIC collaborates with the WFS since its first edition in Madrid in 2016 and on this occasion we also supported the Asian edition of this big event dedicated to the football industry.
Our General Manager Iris Cordoba was taking part at the SportsTech pannel together with Mounir Zok, CEO of N3XT Sports and Daniele Gonteri Head of Football at Genius Sports moderated by Rohn Malhotra, partner of SportsTechX to talk about how the technological innovation is improving sports industry sharing some practical cases of GSIC powered by Microsoft members.
Also, Iris hosted StartCup Competition that took place within this edition where 7 innovative startups from OPAC region presented their solutions applied to sports and after the votation, GameReady, a Malaysian company, was chosen the winner. Now this company is joining GSIC for free for 1 year!
Members Area is already available for all GSIC members
All GSIC Members can already access the private Members Area using their unique credentials. Members Area is an intranet, where all the Center's members can find now more information about each other, share their content and get exclusive news from GSIC and its members.
If you are a GSIC member you can benefit on using this private area where you will find Virtual Meetings, Members catalog, Content shared by members, Working groups, Photos of activities, Microsoft Training, Important documents, Events.
Get to know new members who joined the GSIC in April 2019

Using 3D Visualization Technology to Build a Sales Preview Center and Boost New Texas Rangers Ball Park Inventory Sales
The Texas Rangers Baseball Club took on an enormous challenge in planning the construction
of their new ballpark, Globe Life Field. The ambitious project, with an estimated cost of over one billion dollars, aspires to become the
topv
enue
in Major League Baseball. Globe Life field is expected to open for the 2020 season.
The ballpark, with a capacity of approximately 40,000 spectators and a contiguous entertainment district, presented a series of challenges that highlighted the importance of having all available tools to visualize the project in multiple dimensions. A project of this magnitude presents many challenges that the 3D Digital Venue team had to take into account. First of all, the information had to be filtered in order to move from the architectural model to the 3D model in virtual reality. This was a laborious step, due to the enormous amount of data received, not only from the Venue and the VIP spaces but from all the adjacent spaces to the building that presented a very high complexity.
TTSPRTS enters Colombia by collaboration with Atlético Nacional
Since this week, the Verdolaga has NACIONALOFICIAL, the application for mobile phones that will provide a better experience to its fans and followers, thanks to statistical information, news and exclusive multimedia content for users of the application.
After several months of research and work, Atlético Nacional has its application in the app store of the Android and IOS systems. This development was done with the empresTTSPRTS, expert in the management of digital platforms for teams, leagues and football federations
"We want to be aligned with the global trend and have a direct line with our fans. We met some suppliers from several countries, with experience in several football leagues. We found in TTSPRTS a company with experience and a brand with technology that suited what we wanted to offer our fans. In this way, our fans and followers around the world can access exclusive content of the Green from their cell phones," said Ricardo Zapata, marketing director of Atlético Nacional.
Three Balance offers a training for certification of International Society for the Advancement of Cineanthropomery
Anthropometry studies the physical dimensions of the human being, analyzing and quantifying changes in body composition, for which there are various technological advances and methodologies.
In the
present
it plays an important role in industrial design, ergonomics, biomechanics, architecture, nutrition, among other areas.
The international ISAK certification (International Society for the Advancement of Cineanthropometry) accredits experts in the application of rules of a global nature, in the use of anthropometry as an alternative to measuring body composition for sports performance identification, evaluation of human growth, health risk, among others.
The accreditations will be made at the GSIC, Level 1: 28 to June 30 and Level 2: 27 to June 30, where you will develop skills and competencies to evaluate and compare these aspects with existing technologies and their application for the different fields mentioned.

For more information write to

[email protected]
CONAFUT – National Football Conference is an event of discussion, reflection and networking of Brazilian football in all its dimensions: technical, managerial and marketing. In panel discussions, industry experts present their views on the most relevant issues in the current scenario.
In its third edition, the event is today the largest and most important meeting point in the Brazilian football market, with the participation of the main players in the area.
The International Association of Microsoft Channel Partner is holding its 2019 Emea event in Madrid Spain. The IAMCP Emea has over 1200 members who are the ´crème de la crème´ of the Microsoft eco-system. Over 50% of IAMCP Emea members are Microsoft managed partners. We expect more then 150 CxO´s and business leaders to attend the event.
This event will bring you the following:
A deep understanding of the Microsoft strategy and its execution via partners

A hands-on framework for understanding and applying Artificial Intelligence in your business

A great opportunity for cross EMEA partner to partner (P2P) networking with plenty of informal and formal opportunities for networking.
Leit Motiv: Artificial Intelligence
Applied artificial intelligence. There is a lot of hype in the market and Microsoft is driving AI hard but as a partner, Where do you start? How do you integrate AI into your products and services? How do you build a practice?
Objetctive: Understanding the latest about Microsoft´s (AI) strategy, getting a grip on how to establish a practical AI strategy and plan for your company but most importantly establish effective Partner to Partner connections (P2P).
Wow Challenge 2019 is the 1st Official Edition Solidarity Regatta of Women Leaders (Entrepreneurs and Directors) in Spain that will take place on May 31, 2019 in Valencia, at the Puerto Deportivo Valencia Mar, located in the expansion area of ​​the Real Club Nautico de Valencia that was executed on the occasion of the 2007 Copa America, a very ambitious project that has needed several years of waiting to find its ideal scenario.
The company that leads this initiative is one of the most prestigious in the sector, as it supports several of the reference marinas in the Spanish Mediterranean such as Puerto Portals, Formentera Mar, Marina Botafoch or Marina Vela, and which will be the Port of Reference all editions WOW Challenge Women Leaders.
The pioneering Project in Spain and the world, created and developed on the initiative of Ana Soler, CEO & Founder of SPORT Leaders & Co is a sports event – in solidarity, in PRO of Diversity and Feminine Leadership, and is inspired by the team female SCA of the Volvo Ocean Race.
Netherlands Sports Analytics and Technology Conference, is taking place on June 4th at the Johan Cruyff Arena and it's the premier forum for industry professionals and executives interested in the role of data and analytics in the European and global sports industry. Join 500+ attendees from Sports Leagues, Clubs, Teams, Media, Entertainment, Telecommunications, Business Leaders and more to discuss the cutting-edge trends and future technology insights that will transform the global sports ecosystem.

GSIC Members can benefit on 20% discount for tickets.
Join 500+ industry experts from UK and global sports innovation discussing the future. From Sports Leagues, Clubs, Teams, Athletes, Media, Entertainment, Telco, Advertising, Esports, Game Publishing, Business Leaders and more to discuss what is pushing the needle and moving the industry forward. The trends, future technologies and insights that are transforming the global sports landscape and what it means for UK today and tomorrow.
Four events over two days
27 June – Investor day – limited to 25 start-ups and 25 investors
27 June – VIP Speaker dinner – minimal tickets available for purchase by request
28 June – Main Conference, speakers, panelists and interactive activations / exhibition area
28 June – Esports Tournament (more details to follow)
GSIC Members can benefit on 30% discount or tickets.