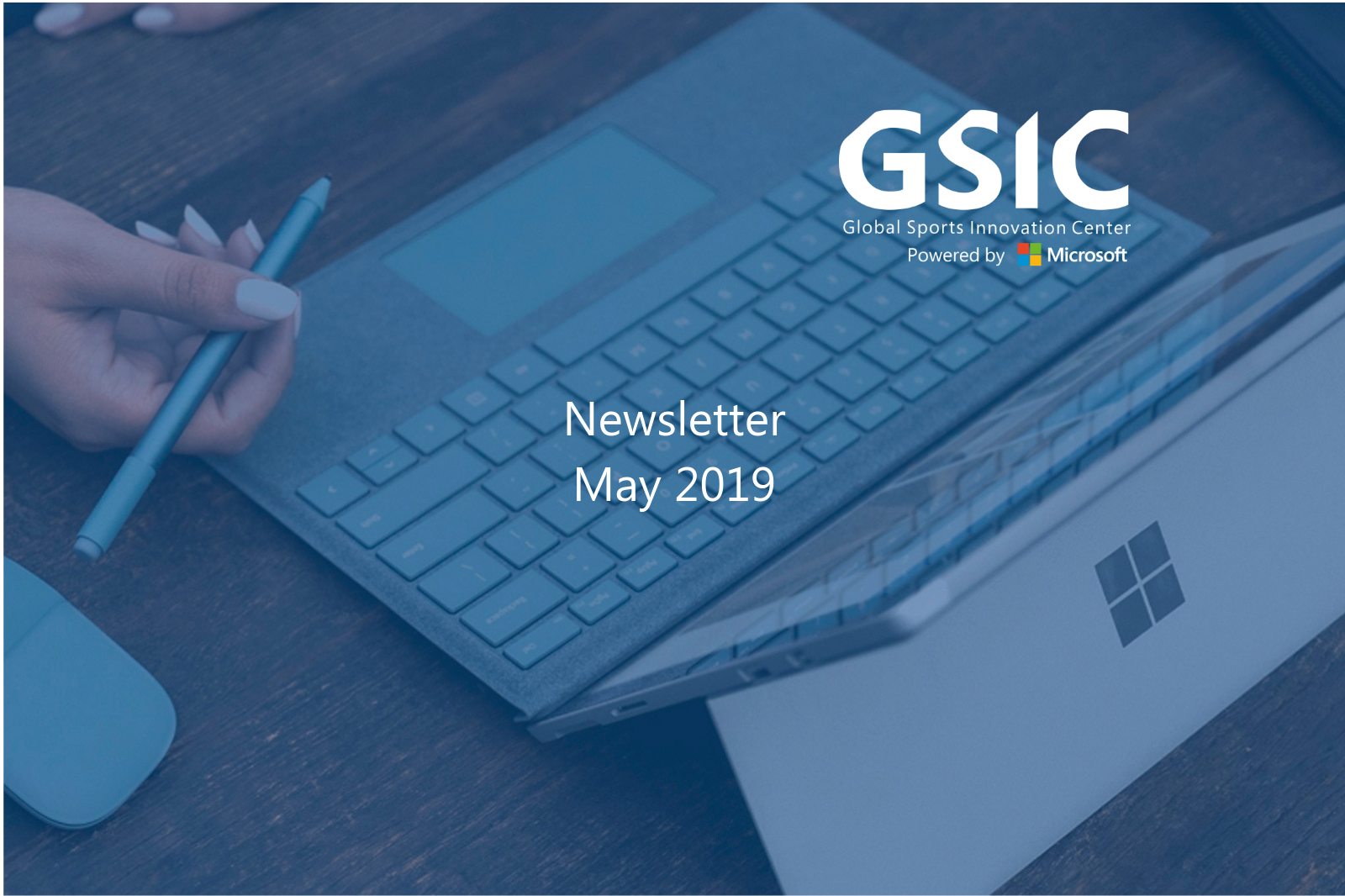 03 Jun

Newsletter – May 2019
Startup Competition 2019 – 25 pre-finalists are chosen

The global Startup Competition 2019 that the GSIC and LaLiga had launched on January 29th is moving forward after closing the call on March 31st.


With a total of 279 inscriptions, the call was very successful as it found repercussion in 58 countries and allowed to gather the best innovative solutions developed by technology-based startups. Among the total amount of the companies who applied for participation in this competition, the biggest part is focusing on Fan Engagement, and the most frequent technologies used are AI, machine learning, VR, big data and video analytics tools.

GSIC collaborates with More Than Players Foundation to boost innovation in professional sports

On May 16th, GSIC participated at the presentation of More Than Players Foundation where we were represented by our President, Sebastián Lancestremere.

During the event, 5 startups that passed GSIC screening, presented their innovative solutions to the athletes who form part of More Than Players Foundation, press and special guests.

'More than players' is a foundation supported by football players like Álvaro Morata, Keylor Navas or Adrián Embarba, or the Paralympic athlete Desirée Vila, and aims to help startups that link technology and sports. The foundation aims that these companies that generate technological advances linked to sports have the support of athletes to receive funding and establish contacts to help them grow.

Virtual Meeting – Access control for Sports Venues – June 11th

Monetization of Fans: how to know them better and get more revenue

– June 12th

GESx TECH: ESPORTS, THINKING FOR THE FUTURE

GSIC Let's Talk! – June 2019
We're inviting our members for GSIC Summit
We've been waiting for the perfect moment to bring you the biggest international event for our network and here it is!
We are organizing our first Summit for GSIC Members in order to bring you all together for 2 days full of intensive work, networking, knowledge transferring and also catching up with our team!
Save the dates in your agendas: 11th and 12th of September of 2019
We are preparing for you the agenda that will include co-creation sessions on the trending topics of the sports industry, working groups sessions and also, for the first time, we are planning to host a European Leagues Innovation Day*. This is a great opportunity to meet and potentially pitch to many football leagues in Europe who are members of the European Leagues (EL) association.
This activity is exclusive for GSIC Members and you can register now filling this FORM.
*The European Leagues Innovation Day is TBC and participation is subject to EL approval.
GSIC, Trentino Sviluppo and EPSI are launching European Sports Tech Conversations with a masterclass on digital transformation
On May 30th GSIC, Trentino Sviluppo and EPSI had held the first session of

European Sports Tech Conversations

, a new exclusive online events that will help to disseminate knowledge on the most important and trending topics of the sports industry, provided by the most relevant stakeholders and experts in big data, IoT, blockchain, eSports, cybersecurity, fan engagements and much more.
The first European Sport Tech Conversation focused on the Digital Transformation of sports entities and the evolution of the main technological trends of the industry.
Iris Córdoba explained the latest changes in the world's economy and society that are bringing a plenty of opportunities for industries like tourism, infrastructure and entertainment, and sports are certainly a way of entertainment. She also overviewed new business models that appeared in the industry with the arrival of the digital. There are some important demographic aspects as well: people are moving from rural places to big cities which once again creates new opportunities for businesses.

GSIC Members can watch the recording of this session on our private Members Area.
GSIC participates in CONAFUT, the major football conference in Brasil
On May 16th our General Manager Iris Cordoba was attending CONAFUT, the most important football conference in Brasil where GSIC was been supporting Microsoft Brazil and Mardem.

Iris participated at the debate table on technology and collaborating on the organization of a startup competition that took place within the event and 3 startups have received free GSIC memberships. They are Sensorial Sports, I9 Gestão Esportiva, Genesis Training.
Working Group "The present and the future of Smart Venues" led by Minsait
Since February 2019 we've been working with our members on the

Working Group

dedicated to the exploration of the future of Smart Venues. With

Minsait

leading working sessions, we had an opportunity to take a closer look at the actual state of this area, detect future challenges and try to find solutions.

We thank all the members who are participating in this working group!
The report by GSIC and Minsait will be soon available on our private Members Area and now all the participants can also access the recording of the sessions on "Working Groups" category of the Intranet.
Virtual Meeting – New challenges of the eSports moving forward – May 14th
On May 14th we had a conversation with the winners of the project Sport Thinkers eSports that was carried out in collaboration with our strategic partner Mediapro, HERO, Brintia and TTSPRTS. They shared with you how they experienced the project since the day they submitted their applications till the day they've got to the immersion week with Mediapro in Barcelona.

If you are a member of GSIC, you can watch the video recording of this session on our Private Area.
GSIC Institute – Master on Digital Transformation of Sports Entities will start on October
GSIC Institute is moving forward and together with our members who signed up to be professors of the Master Degree in Digital Transformation of Sports Entities, we are preparing the program and the content of this educational program that will begin on October 2019.
If you are interested in signing up for this Master, we remind you that you can watch the recording of the Open Day session to get informed about the program here and if you are interested in entering this Master, contact

[email protected]

or

[email protected]
On February GSIC had announced the preparation of a paper on "Digital Transformation of the sports industry in 2025: Envisioning the future", based on the knowledge and experience of our members to keep our global leadership and positioning in the digital transformation of the sports industry, and also as an entity who helps to envision the future of sports worldwide through digital innovation.

This document's main goal is to tangibilize the global leadership of GSIC in this field and, thus, the global leadership of the members of GSIC in this space. And currently, all the results are gathered and being processed to shape the paper and to be able to present it to the sports industry in the near future.

The results of the research are ready and soon you will receive the released document.
Members Area is already available for all GSIC members
All GSIC Members can already access the private Members Area using their unique credentials. Members Area is an intranet, where all the Center's members can find now more information about each other, share their content and get exclusive news from GSIC and its members.
If you are a GSIC member you can benefit on using this private area where you will find Virtual Meetings, Members catalog, Content shared by members, Working groups, Photos of activities, Microsoft Training, Important documents, Events.
Superliga Argentina is a new member of the GSIC
Superliga Argentina joined GSIC as a member on the end of May to get involved in activities that will help them with Digital transformation processes and bring value to our members, learn from them and find synergies.
The Primera División (First Division), named Superliga Argentina (English: Argentine Super League) since the 2017–18 season, is a professional football league in Argentina, organized by the homonymous entity, that is administrated independently and has its own statute. The Primera División is the country's premier football division and is at the top of the Argentine football league system. It operates on a system of promotion and relegation with the Primera B Nacional (second division), with the teams placed lowest at the end of the season being relegated.
Get to know new members who joined the GSIC in May 2019

Interested in becoming GSIC Member?
Over 200 entities from 31 countries have already become GSIC members!
Join them and benefit on all our activities: Networking, Virtual Meetings, Working Groups, Business Trips, Innovation Days, Inspiration Days, Co-creation Workshops, participation at startups
competitionss
, attendance to the international events and more.
Fill the Form on a link below to apply for GSIC Membership
Anthropometry course – June 27 – 30
Anthropometry studies the physical dimensions of the human being, analyzing and quantifying changes in body composition, for which there are various technological advances and methodologies.
In the
present
it plays an important role in industrial design, ergonomics, biomechanics, architecture, nutrition, among other areas.
The international ISAK certification (International Society for the Advancement of Cineanthropometry) accredits experts in the application of rules of a global nature, in the use of anthropometry as an alternative to measuring body composition for sports performance identification, evaluation of human growth, health risk, among others.
The accreditations will be made at the GSIC, Level 1: 28 to June 30 and Level 2: 27 to June 30, where you will develop skills and competencies to evaluate and compare these aspects with existing technologies and their application for the different fields mentioned.

For more information write to

[email protected]
Netherlands Sports Analytics and Technology Conference, is taking place on June 4th at the Johan Cruyff Arena and it's the premier forum for industry professionals and executives interested in the role of data and analytics in the European and global sports industry. Join 500+ attendees from Sports Leagues, Clubs, Teams, Media, Entertainment, Telecommunications, Business Leaders and more to discuss the cutting-edge trends and future technology insights that will transform the global sports ecosystem.

GSIC Members can benefit on 20% discount for tickets.
Join 500+ industry experts from UK and global sports innovation discussing the future. From Sports Leagues, Clubs, Teams, Athletes, Media, Entertainment, Telco, Advertising, Esports, Game Publishing, Business Leaders and more to discuss what is pushing the needle and moving the industry forward. The trends, future technologies and insights that are transforming the global sports landscape and what it means for UK today and tomorrow.
Four events over two days
27 June – Investor day – limited to 25 start-ups and 25 investors
27 June – VIP Speaker dinner – minimal tickets available for purchase by request
28 June – Main Conference, speakers, panelists and interactive activations / exhibition area
28 June – Esports Tournament (more details to follow)
GSIC Members can benefit on 30% discount or tickets.
The digital transformation is the biggest growth driver of the future and fundamentally changes the sports industry. ISPO has been following this change by launching ISPO Digitize Summit, the first digital conference dedicated to the sports business. With renowned keynote speakers, practical workshops and expert discussions, the summit offers you the chance to benefit from new business opportunities enabled by digitalization.
ISPO Digitize Summit: 03.-04.07.2019 at ICM München