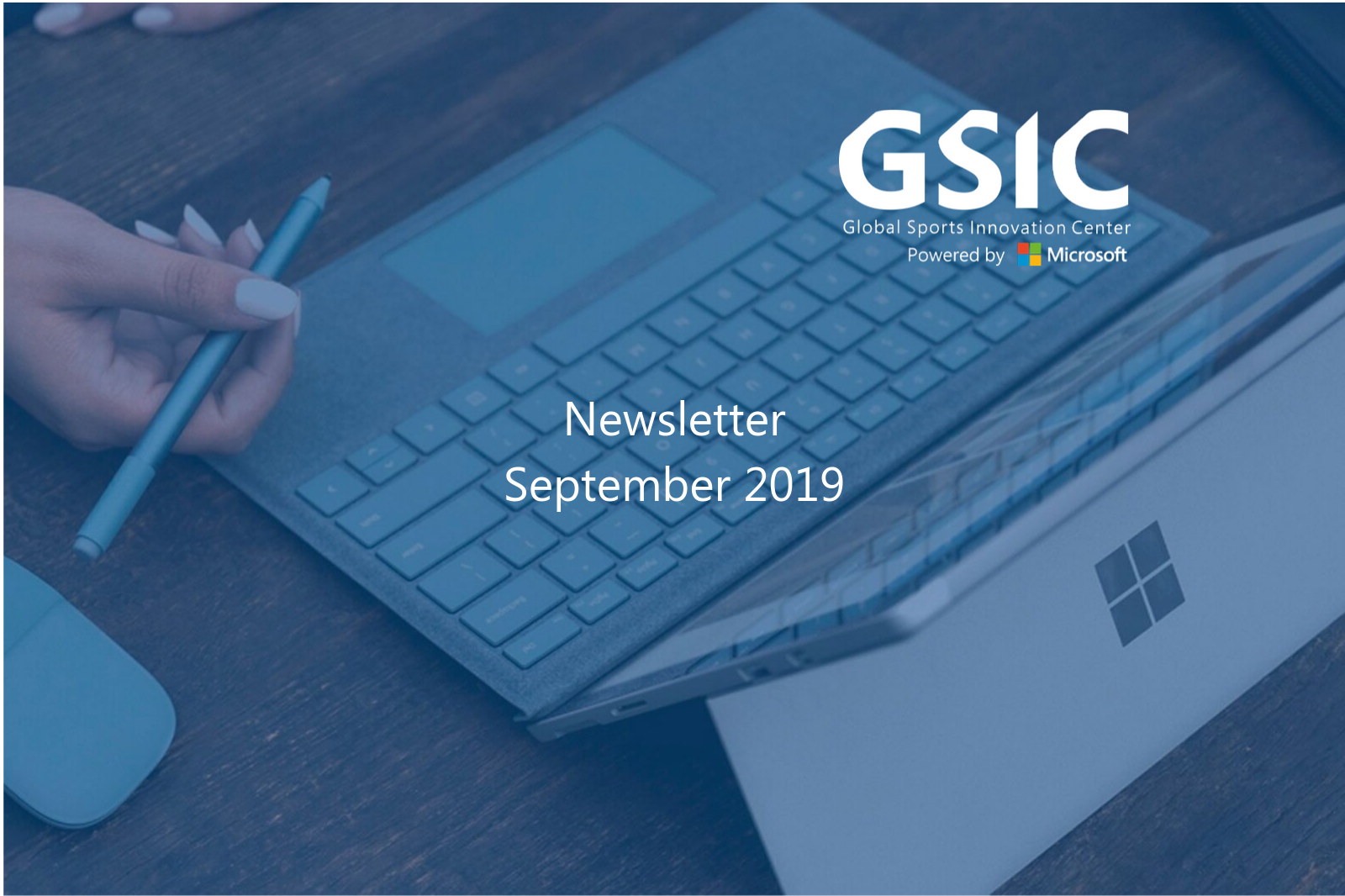 02 Oct

Newsletter – September 2019
On September 11 and 12 we hold our first GSIC Summit that brought together 72 entities from 18 countries, with a total of 120+ attendees in 2 days of the event.

The 2-day agenda was composed by 14 great quality keynotes and interactive panels where 34 speakers talked about the most trending topics of the sports industry such as startups acceleration, the importance of AI, use of Big Data, Business analytics, eSports monetization challenges, team and players' performance, injury prevention and Smart Stadium.

AI Solutions for the sports industry

We invite you on

October 8

at 10 am to the event of our members

Nanrfor Iberica

where they will talk about AI solutions based on Azure, Online Azure Cognitive Services and its applications in the

sports

industry.

Spanish speaking event

October 30

– Join us and our partners from

GES

for the round table on the main challenges of Esports teams nowadays!

GSIC Let's Talk! – October 2019
10 winners of the Startup Competition 2019 by LaLiga supported by GSIC are announced!
The Original Inspiration Centre by LaLiga supported by GSIC

announced the names of Startup Competition 2019's 10 winning companies during the

World Football Summit

held in Madrid. The trailblazing project launched in February selected the companies from among

279 candidates in 55 different countries.



Startup Competition 2019, organized by LaLiga and Global Sports Innovation Center (GSIC) powered by Microsoft, is a result of the collaboration agreement between the two organizations and forms part of the global alliance between LaLiga and Microsoft cemented in 2016. The objective of this contest was to identify disruptive solutions that can help LaLiga and its clubs forge ahead in the field of innovation and technology.

As far as the outcome of the competition is concerned, from almost 300 startups flying the flag for 55 countries that initially entered to the list, 25 were given the opportunity to present their solutions to a panel of judges featuring representatives from LaLiga, Microsoft and GSIC, with 10 of the selected initiatives – representing five countries – to this month's immersion week in Madrid.

The 10 winners are

Solos Ltd

,

Snaptivity

,

Antropometria IBV

,

Thermohuman

,

Jump

,
Sceenic
,
Spalk
,

Cinfo

,

Watafan

,

Fanwide

.
Startup Competition 2019 by LaLiga supported by GSIC – Immersion Week
As the

Startup Competition 2019

by LaLiga supported by GSIC was coming to its final, all the 10 startups who won this competition, came to Madrid on September 19 to spend an

Immersion Week with GSIC and LaLiga

.

Our winners had spent the first 2 days of the Immersion week at LaLiga headquarters meeting their innovation department represented by

Minerva Santana

as well as representatives from 10 LaLiga departments so they could deepen on
the understanding of the organization and its clubs, as well as the needs of both. All this contributes to the goal of developing pilot projects over the coming months that cover, to the furthest extent possible, the clubs' technology and innovation requirements. Also, GSIC organized a training session on How to build a winner pitch delivered by

Ricard Garriga

as well as a special session where our General Manager

Iris Cordoba

and Business Development Manager

Iñigo Bonilla

helped the competition winners to review and improve their pitches.

On Monday, September 23, all the 10 startups had spent an intensive day at GSIC headquarters attending workshops on Branding for Sports Startups by Adrian Herzkovich and Digital Transformation Certification by Nanfor Ibérica. They also received a welcome session by

Sebastian Lancestremere

, Sports Business Managing Director of Microsoft who shared with the startups how they can align with Microsoft technology and how the company can help in their business growth.

The immersion week finished at World Football Summit on

September 25

with a special event that was carried out in two parts: public round tables on Open Innovation and a private presentation of winners' pilot projects to LaLiga.
World Football Summit 2019 in Madrid
For the fourth consecutive year, GSIC was present at World Football Summit which this time gathered more than 2.000 attendees from 100 countries. 25 companies and organizations that are currently GSIC members participated as speakers in pannels and round tables and placed their booths in the exhibition area.

Among the highlights of the event was a roundtable "Esports: the new fan, market trends and business models by Microsoft" that took place on the Industry Talk Stage on September 24. This roundtable was organized by Microsoft Sports team and moderated by Sebastian Lancestremere, Sports Industry Managing Director at Microsoft Corp who invited Marcos Eguillor, Cofounder and CCO of MADLions E.C., Ignacio Arrola, Marketing, Commercial, Rights & Digital at Mediapro and Ivan Burgos, Connected Car Manager at Porsche to discuss the current situation of Esports on the global level, existing and future business models, sponsorships and relationships with fans.

The event finished on Wednesday, September 25 when we held 2 open sessions discussing with LaLiga an 'Open Innovation in LaLiga To Transform The Sport & Entertainment Industry'. Afterward, the 10 startups that won Startup Competition 2019 delivered pitches of their final pilot projects to LaLiga and its clubs during a private event.
European Sports Tech Conversation
The Global Sports Innovation Center powered by Microsoft (GSIC), European Platform for Sport Innovation (EPSI) and Trentino Sviluppo joined forces with an aim to provide the sports innovation community across the industry with an added value.

Together we have launched a series of European Sport Tech Conversations, exclusive online events that will help to disseminate knowledge on the most important and trending topics of the sports industry, provided by the most relevant stakeholders and experts in big data, IoT, blockchain, eSports, Cybersecurity, fan engagements and much more.

On October 10, at 5 pm we invite you to discuss Sport, Innovation, and Sustainability of the Olympics.
GSIC Institute classes to begin in October
GSIC Institute is moving forward and together with our members who agreed to be professors of the Master Degree in Digital Transformation of Sports Entities, we prepared the program and the content of this educational program that will begin in October 2019.
You are still on time if you are interested in enrolling in this Master, we remind you that you can watch the recording of the Open Day session to get informed about the program
here
and if you are interested in starting this Master, contact
[email protected]
or
[email protected]
Members Area is available for all GSIC members
All GSIC Members can already access the private Members Area using their unique credentials. Members Area is an intranet, where all the Center's members can find now more information about each other, share their content and get exclusive news from GSIC and its members.

If you are a GSIC member you can benefit from using this private area where you will find Virtual Meetings, Members catalog, Content shared by members, Working groups, Photos of activities, Microsoft Training, Important documents, Events.
Get to know new members who joined the GSIC in September 2019
ONTIER'S IT-Sport Entertainment practice
ONTIER puts its 25-member international team and startups sub-division to all GSIC partners' disposition to provide them with innovative and business-oriented solutions that adjust to the strict requirements of any jurisdictions of interest.
All GSIC members are granted five (5) free hours per year to make up to five consultations on any legal matter that deem significant for their project. The scope of consultations also includes Legal consultation sand/or revision of contracts.
Matters regarding the drafting of agreements, company registration and/or M&A transactions are excluded from the hour bag. Nevertheless, all GSIC partners are granted a 20% discount on any matter that falls outside the scope of the hour bag as to optimize potential and ensure the rapid and prosperous development of all partners.
It's time to learn to be an entrepreneur!
If you are an entrepreneur, professional, employee, athlete, or you want to make something happen that today is only on your mind, the Scalabl Academy, leader in business training, arrives in Madrid to share its methodology for generating models of business without risks or initial investment.

Do you want to learn how to move forward or work in a profitable company in any industry? Meet Francisco Santolo, economist and MBA, trained at Harvard, MIT, Kellogg, Stanford, Chicago Booth and Singularity. Serial entrepreneur, recognized by Forbes magazine as "The Startup Hacker", which is revolutionizing the vision of business worldwide. After dictating his program in Hong Kong, Dubai, Bangalore, Sao Paulo, Buenos Aires, City of Mexico, Santiago, Chile and Barcelona, Francisco arrives in Madrid to offer the Scalabl Global Entrepreneurship and Innovation Academy and share his methodology with all entrepreneurs, entrepreneurs and professionals who want to learn a new way of doing business.
We offer an Entrepreneurship and Innovation Program for entrepreneurs,
and
professionals, with a solid methodology in the development of business models without relevant risks or initial investment, which can be applied to the design of a new company or business unit or the reformulation of An existing company.

GSIC members can benefit on 10% discount and we will organize a Virtual Meeting with Francisco within the next few weeks.
Interested in becoming GSIC Member?
Over 230 entities from 35 countries have already become GSIC members!
Join them and benefit from all our activities: Networking, Virtual Meetings, Working Groups, Business Trips, Innovation Days, Inspiration Days, Co-creation Workshops, participation at startups
competitions
, attendance to the international events and more.
Fill in the Form on a link below to apply for GSIC Membership.
For another year, Microsoft Sport and GSIC will be attending together this new edition of Leaders Week in London from September 7 till 10.
3000 of the brightest minds in the industry will descend on London to explore the innovation, disruption and consumer preferences impacting the future of
the sport
. The event will descend on London to explore the innovation, disruption and consumer preferences impacting the future of the sport.
With the title "IL FENOMENO, I FENOMENI" the second edition of Il Festival dello Sport, organized by La Gazzetta dello Sport and Trentino Marketing, will take place in Trento from 10th to 13th of October 2019, with the collaboration of the Autonomous Province of Trento, Comune of Trento, Apt of Trento and with the patronage of the CONI, the Italian Paralympic Committee and our members Trentino Sviluppo.

After the extraordinary success of the first edition, with over 200 guests and 50,000 attendance at the 130 events, all free, the expectation for the new appointment is growing.

The Sports Festival from 10 to 13 October will host many events, all free, conducted by the Gazzetta signatures, with a parade of stars and protagonists of the great national and international sport: athletes and athletes, Olympic and Paralympic, champions, coaches, coaches, authorities, technicians, experts.

Our General Manager Iris Cordoba will be participating as a speaker in this event.
Piscina & Wellness Barcelona 2019 is the place to grow and take great steps forward. Discover, debate, learn, do business, make new contacts, and experience all the latest developments within the Swimming Pool and Wellness sector.

GSIC team will be attending this event to offer a conference on October 15.
International Sports Alliance Day 2019
This year's International Sports Alliance Day will be held at Tottenham Hotspur Stadium in London on October 17th.
Some of this year's topics:
Tottenham Hotspur FC will share their stories on how their new stadium will deliver the best possible experience for their fans and how data is involved in every step.
Wolverhampton Wanderers has used MyPages to create digital personalized connections with their fans.
Yinzcam with their story about bringing fans closer to the game they love through the use of technology in the NFL and MLB.
QPR will tell the story on how they're rewarding Fan Loyalty anywhere, anytime with ClubPay. Connecting business, sponsors and fans in an incredible way.
KIROLTECH is the Congress on innovation and technology applied to sport, which will take place on October 17 in Ficoba.

It will become the meeting point of the sports industry with the celebration of KIROLTECH. Throughout the day, representatives from the world of sports, innovation, and technology will exchange experiences and discuss the current situation of the sector.

KIROLTECH will gather national and international presentations related to global trends in the sports industry and the organization of sporting events. All these integrating multiple points of view, from the impact of the incorporation of women to sporting events to the emerging sector of sports event startups.

GSIC team will be attending this event to offer a conference.
The 2nd International Football Congress is a space created to transfer the training, values and passion of football through the knowledge of great professionals in the sports field. It is also the perfect place to promote spaces for updating, debate, and innovation for this magnificent sport.

Our General Manager Iris Cordoba will be attending this event as a speaker.
Building on the huge success of Mass Participation Asia which was founded by Chris in 2015 that has already attracted industry leading speakers and delegates from 21 countries to events in Singapore and Bangkok, plans are underway to expand into a network of global and regional conferences across the world. Mass Participation World's conferences are designed and curated to foster collaboration and best practice in the mass participation industry.

Our General Manager Iris Cordoba will be attending this event as a speaker.y.